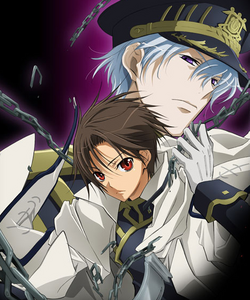 ---
07 Ghost Wiki
Wiki founding
: 2009/05/14
Page count
: 527
Last checked
: 2018/07/03
---
---
Genre:

Media:
07-Ghost (セブンゴースト, Sebun Gōsuto) is a manga series written and illustrated by Yuki Amemiya and Yukino Ichihara. It was serialized in Monthly Comic Zero Sum, a josei manga magazine published monthly by Ichijinsha. Seventeen bound volumes have been released by the publisher. The manga was originally licensed by Go! Comi for release in North America, but they stopped publishing in October 2009 and Viz Media has since picked up the license for the series. The series has been adapted into a drama CD and an anime television series from Studio Deen, which debuted in April 2009.
Plot
[
]
Teito Klein is a former slave sent to attend the Barsburg Empire's military academy due to his ability to use Zaiphon, a type of supernatural power. The ability is rare, and thus highly prized. Teito is an amnesiac and doesn't remember anything of his origins—what he does learn of his past comes from his recurring and often traumatizing dreams.
After a year at the academy, Teito takes the graduation exam; it is notoriously difficult, with a pass rate of one in twenty-five. Teito and his best (and only) friend, Mikage, pass easily. That night, in their shared dorm room, they each promise to help the other at any cost. The next day, Teito is delivering papers to a professor when he overhears his name. He stops to listen and realizes that the speaker, a man named Ayanami, is the man who killed his father in his dreams. Teito is found eavesdropping and tries to attack his father's murderer, but is quickly brought down by one of Ayanami's subordinates and sent to prison. Mikage comes to help him escape, only to find that Teito has managed to fight past the guards by himself. The two flee the building, but are cornered on a balcony. Teito pretends to hold Mikage hostage, threatening to kill him; and tries to escape when Ayanami sends a Zaiphon attack after him, which Teito manages to partly deflect. A Bishop in the nearby 7th District brings the injured Teito to the church to recuperate. Since Teito is still in chains, the Bishop, Frau, mistakes him for a slave and comments that if Teito had been a soldier in the Imperial army, he would have killed him immediately. Because of the law of "sanctuary", Teito may stay in the church without fear of the Empire or Ayanami.
Teito carries the Eye of Mikhail, the powerful artifact that his home country, the Raggs Kingdom, was ransacked for. The tragic death of a loved one catapults him into his quest for revenge against the Barsburg Empire and knowledge about his past, while he becomes entangled with the Gods, Verloren, and the 7 Ghosts.
His best friend's fate spurs Teito into trying to master the Bascule—a powerful weapon that can harness and focus his innate power. Friends become enemies and rivals become allies as Teito begins to fulfill his destiny, and protect his fallen country from the minions of his former masters.
External Links
[
]
Official
[
]
Other Sources
[
]
Other Wikis
[
]
References
[
]