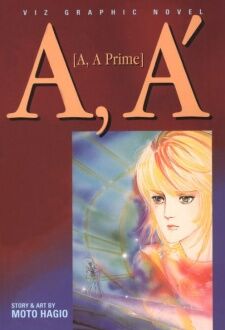 ---
---
Demographic:

Genre:

Drama , Science Fiction 

Media:
A, A Prime is a short science fiction manga by Moto Hagio. It was first serialized in August 1981 in Princess (magazine).
It is published (left-to-right) in English by VIZ Media and translated by Matt Thorn. In this publication there are also two others stories by Hagio, 4/4 [Quatre-Quarts] and X+Y, included. X+Y, which was serialized in manga magazine Petit Flower between July and August 1984, won the Seiun Award in 1985 [1]
All three stories share a futuristic setting where Unicorns, a rare form of emotionless, bioengineered human with augmented abilities. In the first story, Adelade Lee is sent out to a remote frontier colony to replace the original Adelade Lee left Earth. Adelade does not have any memories of the original. In 4/4, a young telekinetic falls in love with a Unicorn Girl who was in the Jupiter's genetic experimentation. In the two-part X+Y, the same telekinetic from 4/4 falls in love with another Unicorn Girl in Mars.
Community content is available under
CC-BY-SA
unless otherwise noted.