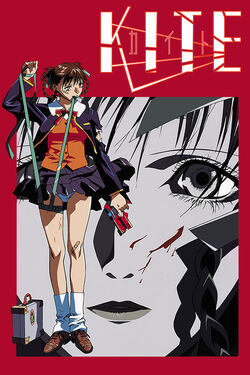 ---
Kite Wiki
Page count
: 7
Last checked
: February 5, 2018
---
---
Genre:

Action , Drama , Science Fiction , Hentai 

Media:
A Kite is a Japanese anime OVA created by Green Bunny and ARMS, written and directed by Yasuomi Umetsu, and released on February 25, 1998. A second installment entitled KITE Liberator was released on March 21, 2008.
Sawa is an orphaned school girl, while also an assassin controlled by a corrupt cop who gives her all the detailed targets. While Sawa's background remains a mystery, the mystery lies among her deceased parents and the cop's power over her with promise of revenge. When another orphan, a teenage boy called Oburi, is brought in to assist Sawa, the two teenage killers form a bond of sorts. As they heal each other's emotional wounds, they begin to dream of a life that would not be spent under the shadows of murder.
Several years after the first film, the killer known as Sara disappears from the shadows after avenging her parents' death. Now a new figure dances airily on the dark side of a big city. She is an angel of death who kills her victim gracefully before disappearing. Monaka is just a normal high school student, though this quiet and modest life has a darker side. A side called the "angel of death".
Community content is available under
CC-BY-SA
unless otherwise noted.