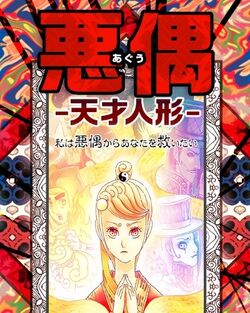 ---
---
Genre:

Action , Drama , Supernatural 

Media:
Aguu: Genius Dolls (悪偶 ‐天才人形‐, Aguu: Tensai Ningyou) is a Chinese webcomic written by Yichun Jun, which is currently serialized by Tencent. An anime adaptation produced by Studio DEEN premiered on July 10, 2018.
There are people around us — leaders, entrepreneurs, famous stars, and prodigies — who don't have to put in much effort. Those geniuses all have something mutually: they all possess a certain "something," a secret that they can't talk about with ordinary people. That secret is "Aguu."
An ordinary dancer girl called Ai is friends with a genius dancer named Machi. Watching Machi's talent often makes Ai feel down until one day, Ai finds out Machi's secret: the existence of the Aguu, palm-size entities who grant genius talent upon those who hold them. In order to save Machi, who has become a "Seamstress" who makes Aguu, Ai becomes a "Savior", people who have fought the Seamstresses for generations.
Community content is available under
CC-BY-SA
unless otherwise noted.