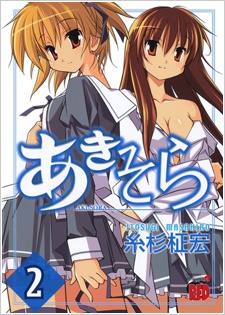 ---
---
Genre:

Romance , Seinen

"Seinen" is not in the list of possible values (Action, Adventure, Comedy, Drama, Fantasy, Horror, Mecha, Mystery, Psychological, Romance, Science Fiction, Slice of Life, Sports, Supernatural, Yaoi, Yuri, Hentai, Historical, Music) for this property.

Expression error: Unrecognised word "span".

Tags:

Ecchi , Harem 

Media:
Aki Sora (あきそら, Aki Sora) is a manga written and illustrated by Masahiro Itosugi. It was serialized in Champion Red from December 19, 2008 to May 20, 2011.
Plot
Ever since he was a young child, Sora Aoi had always exchanged words of "I love you" with his attractive older sister Aki. Now, as he comes of age, he finds it much harder to exchange such comforts as they did in those simpler times. When Aki demonstrates her feelings toward him to go beyond a sister's love, Sora finds himself questioning his feelings for his sister. Realizing their affection for one another, they consummate their love in secret. In a society that would never understand, they must now keep their love a secret from their family and everyone they know. However Sora soon finds himself exploring many forms of love not accepted by society and questioning his feelings for his sister.
External Links
Official
Other Sources
Other Wikis
References