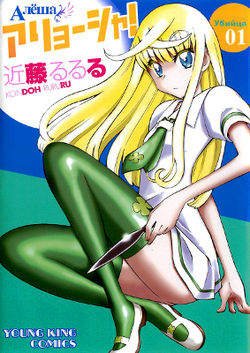 ---
---
Genre:

Action , Comedy , Seinen

"Seinen" is not in the list of possible values (Action, Adventure, Comedy, Drama, Fantasy, Horror, Mecha, Mystery, Psychological, Romance, Science Fiction, Slice of Life, Sports, Supernatural, Yaoi, Yuri, Hentai) for this property.

Expression error: Unrecognised word "span".

Tags:

School Life 

Media:
Alyosha! is a completed seinen manga written and illustrated by Rururu Kondoh.
Plot
Foreign exchange student Alyosha Stalina has been attending a Japanese high school for 3 months. She comes from the nation of Solessia but she is yet to fit in with the other students because of her unfriendly demeanor and cold personality. Rightfully so because Alyosha is a trained assassin that has been murdering people since she was 5 years old. Officials in Estolakia, a country devastated by the attacks from Solessia, found the orphaned Alyosha and trained her as a top-notch assassin to work against Solessia.
Her most recent and soon to be last mission is to murder the president of Solessia who is to attend the high school she has infiltrated for 3 months. However, the mission is aborted and she is ordered to remain a student. The only thing Alyosha knows how to do is to be an assassin and has never learned how to be a normal teenage girl. Will Alyosha be able to complete her most difficult mission yet?
External Links
Official
Other Sources
Other Wikis
References
Community content is available under
CC-BY-SA
unless otherwise noted.