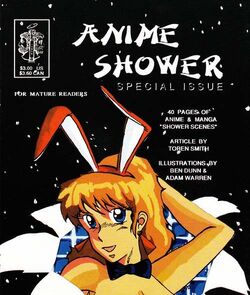 ---
Anime Bath Scene Wiki
Wiki founding
: December 3, 2009
Page count
: 6,178
Last checked
: September 26, 2018
---
Genre:

Action , Adventure , Comedy , Drama , Fantasy , Horror , Mecha , Mystery , Psychological , Romance , Science Fiction , Slice of Life , Sports , Supernatural 

Media:
Anime Shower was a publication series in the 90s that compiled various shower scenes. The first volume came out in 1990. The third volume came out in 1992. Each was 36 pages and in comic book format.
It was produced by IANVS Publications which later became Protoculture Inc.
Anime scenes: AKIRA, Appleseed, Area 88, Crying Freeman, Dirty Pair, Fire Tripper, Gunbuster, Mai The Psychic Girl, Outlanders, Ranma 1/2
Original art by: Michel Gareau, Ben Dunn, Don Yee, Adam Warren and Emru Townsend.
2 articles of unknown titles
Anime scenes: Nadia, Patlabor, Lyger, Orange Road, Under The Gundam, AD Police 2500, Drakuun, Dragon Breeder, Gall Force Private Life, Bastard!, Guyver, Five Star Stories
Original art by: Ben Dunn, Tim Eldred, Jason Waltrip, Adam Warren, Robert DeJesus, Alexandre Racine, Rich Arnold, Daniel C. Kellaway, Michel Gareau and Don Yee. Comic Book format. 36 pages.
2 articles: Topless Ten, U.S. Manga Galls
Anime scenes: Macross II, Video Girl Ai, Midnight Eye, A Wind Called Amnesia, Gundam 0083, Sol Bianca, Bathlabor!, Five Star Stories
Original art by: Tim Eldred, Dan Lane, Normand Bilodeau, and Jose Rubies. Cover by Robert DeJesus. 36 pages.
Community content is available under
CC-BY-SA
unless otherwise noted.