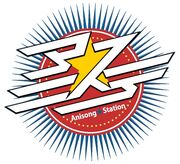 Anisong Station (also known as "Anisong★Station") is a weekly Japanese program devoted to coverage of anison performers and the culture around the growing popularity of anime songs. They also include coverage of anime songs from anime-style video games and songs by anime sings that don't necessarily appear in anime or games.
Anisong Station uses weekly ranking data from the online music store,

 mora.
Regular hosts and MCs are

 Daimao Kosaka (also known for his character "PikoTaro") and Ryoga (Ryoga Funatsu of the band

 Bullet Train).
Daimao Kosaka bio
Edit
Translated from MC section of anisong-station.jp:
Born in Aomori Prefecture in 1973. In 1991 he made his debut as a comedian "Sokonuke Air-Line" (底ぬけAIR-LINE). Currently he is a comedian who goes by Daimao Kosaka, and he is active in the world as a producer of "PikoTaro"!
Ryoga bio
Edit
Translated from MC section of anisong-station.jp:
He is a main dancer & backing vocal of the band "Bullet Train".
"Bullet Train" (【超特急】) formed on December 25, 2011 had their CD debut on June 10, 2012. Eleven albums and singles combined so far have appeared on the Oricon Weekly Chart Top 10. On December 23rd and 24th, 2015, they held a 2 day live performance at the Yoyogi National Gymnasium. A gathering of 25 thousand people saw the band featured at the Yoyogi National Gymnasium over both days. In December 2016, the east-west arena performance sold out tickets at the second fastest rate ever. On April 26th, the 5th anniversary single, "Super Never Give Up DANCE" (「超ネバギバDANCE」), was released and the 5th anniversary tour were held on June 14th at the Nippon Budokan.
External links
Edit
Related
News
Community content is available under
CC-BY-SA
unless otherwise noted.