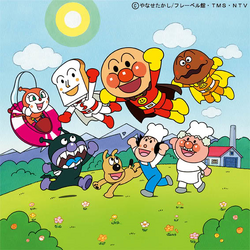 ---
Anpanman Wiki
Wiki founding
: July 19, 2011
Page count
: 160
Last checked
: July 25, 2017
---
Soreike! Anpanman (それいけ!アンパンマン, Go! Anpanman) is one of the most popular anime cartoon series for young children in Japan. As of 2005, the titular Anpanman is the most popular fictional character among people age 0 to 12 years in Japan, according to research by Bandai. The series is written by Takashi Yanase, a Japanese writer of children's stories, and based on the Anpanman (アンパンマン) manga he began in 1968. It is produced by Nippon Television and Tokyo Movie Shinsha. Each animated cartoon is approximately 20 to 24 minutes long split into 2 episodes of approximately 10 to 12 minutes each. The show has been on the air in Japan since 1988; as of 14 January 2011, 1,065 episodes have been created.
Heavily merchandised, the Anpanman characters appear on virtually every imaginable children's product, from clothes to video games to toys to snack foods. As of 26 September 2006, the Anpanman books have collectively sold over 50 million copies in Japan.
The series spawned a short lived spin-off show after one of the more popular recurring characters on the show, Omusubiman.
In each episode, Anpanman fights with Baikinman and helps the people of the town. He always goes on patrol in the area around the house of Uncle Jam. He is a symbol of justice, fighting for the cause of justice every day. Anpanman has a long history and new characters are frequently introduced, keeping the series fresh. In 2009, Anpanman became the verified Guinness World Record Holder for the highest number of characters in an animated franchise; as of March 27, 1,768 characters have appeared in the first 980 episodes of the TV series and the first 20 Anpanman films.
Community content is available under
CC-BY-SA
unless otherwise noted.