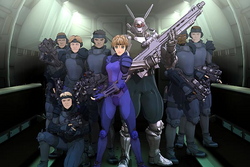 ---
Appleseed Wiki
Wiki founding
: May 14, 2008
Page count
: 133
Last checked
: June 8, 2017
---
Appleseed (アップルシ-ド, Appurushīdo) is a science fiction manga authored by Masamune Shirow. Like much of Masamune's work, Appleseed merges elements of the cyberpunk and mecha genres with a heavy dosage of politics, philosophy, and sociology. The series spans four volumes, released between 1985 and 1989. It has been adapted to direct-to-video movie, two feature films, and a series of video games.
Appleseed takes place in the 22nd Century, after the non-nuclear Third World War decimates the Earth. While states like Great Britain, France and China have difficulty maintaining order and power, international organizations like the "Sacred Republique of Mumna" and "Poseidon" have been established in the aftermath.
The main characters are Deunan Knute and Briareos Hecatonchires, former SWAT members of the Los Angeles Police Department. They are found in the desolated city and invited to join the prestigious ESWAT (Extra Special Weapons And Tactics) organization in the utopian city of Olympus, the new world's most powerful state. Roughly one half of Olympus's population are bioroids.
The series follows Deunan and Briareos as they protect their new home from enemies, both foreign and domestic.
Community content is available under
CC-BY-SA
unless otherwise noted.