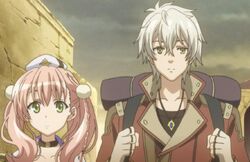 ---
Atelier Wiki
Wiki founding
: October 30, 2008
Page count
: 1,514
Last checked
: September 19, 2018
---
The Atelier series (アトリエシリーズ) is a series of role-playing video games developed by the Gust Corporation since 1997, primarily for the PlayStation consoles (original, PS2, PS3, and PS4), though portable versions for the Game Boy Color, Game Boy Advance, Nintendo DS, Nintendo 3DS, PlayStation Portable, PlayStation Vita and WonderSwan Color have also been made. Two of the games in the series were ported to the Sega Saturn and Dreamcast. The series has been primarily released in Japan, though recent titles have been localized for other markets. The game series, based on the definition of "atelier" as an artist's workshop, draws heavily on the pseudo-science of alchemy, requiring the player to find and collect items and combine them in recipes to create better items with which to progress further in the game. A manga adaptation by Yoshihiko Ochi has also been published.
Marie is a 19-year-old student in Salburg, a make-believe medieval-style city. She is the worst student in her entire class, and is at the risk of expulsion. However, her teacher offers her a chance at salvation; Marie is given her own workshop (Atelier) in which she is given five years to produce something outstanding.
Community content is available under
CC-BY-SA
unless otherwise noted.