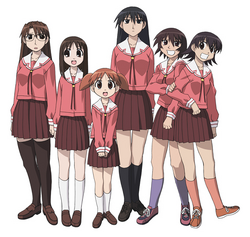 ---
Azumanga Daioh Wiki
Wiki founding
: 2008/12/23
Page count
: 328
Last checked
: 2020/11/18
---
Azumanga Daioh (あずまんが大王, Azumanga Daiō; lit. "Great King Azumanga") is a Japanese comedy manga by Kiyohiko Azuma. It was serialized by MediaWorks in the shounen manga magazine Dengeki Daioh from 1999 to 2002 and collected in four bound volumes. In May 2009, in conjunction with the 10th anniversary of the manga, three additional chapters began serialization in Shogakukan's Monthly Shōnen Sunday under the title Azumanga Daioh: Supplementary Lessons.
The manga is drawn as a series of vertical four-panel comic strips called yonkoma and depicts the lives of a group of girls during their three years as high-school classmates. The series has been praised for its off-beat humor driven by eccentric characters, and Kiyohiko Azuma acclaimed as a "master of the four-panel form," for both his art style and comic timing.
It was adapted as an anime television series called Azumanga Daioh: the Animation by J.C.Staff, which aired from the week of April 8, 2002 until the week of September 30, 2002. It was broadcast on the TV Tokyo network and AT-X in five-minute segments every weekday, then rebroadcast as a 25-minute compilation that weekend, for a total of 130 five-minute segments collected in 26 episodes. The compilation episodes were released on DVD and Universal Media Discs (UMDs) by Starchild Records; the five-minute segments can be distinguished by their individual titles. Several soundtrack albums were released, as well as three Azumanga Daioh video games.
Azumanga Daioh chronicles the everyday life in an unnamed Japanese high school of six girls and two of their teachers: child prodigy Chiyo Mihama and her struggle to fit in with girls five years older, reserved Sakaki and her obsession with the cute animals who seem to hate her, spacey Ayumu "Osaka" Kasuga with a skewed perspective on the world, Koyomi "Yomi" Mizuhara's aggravation at an annoying best friend, Tomo Takino, whose energy is rivaled only by her lack of sense, sporty Kagura and her one-sided rivalry with Sakaki, and their homeroom teacher Yukari Tanizaki and her friend, physical education teacher Minamo Kurosawa. Secondary characters include Kimura-sensei, a creepy male teacher with an obsession with teenage girls, and Kaorin, a classmate with a crush on Sakaki.
The story covers three years of tests, talking between classes, culture festivals, and athletic events at school, as well as time traveling to and from school, studying at Chiyo's house, and vacations spent at Chiyo's summer beach home and the fictional theme park Magical Land, concluding with the graduation of the main cast. It is generally realistic in tone, marked by occasional bursts of surrealism and absurdity, such as Osaka imagining Chiyo's ponytails being "unscrewed" from her head and an episode featuring the characters' New Year's dreams.
Community content is available under
CC-BY-SA
unless otherwise noted.