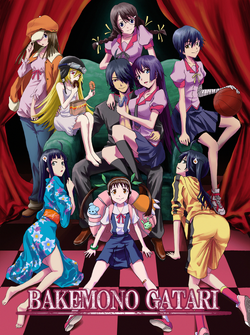 ---
Bakemonogatari Wiki
Wiki founding
: July 28, 2011
Page count
: 286
Last checked
: December 1, 2017
---
Genre:

Action , Comedy , Romance , Supernatural 

Tags:

Media:

Anime, Light Novel, Guide Book
Bakemonogatari (化物語; a portmanteau of bakemono [monster] and monogatari [story, tale]) is a Japanese light novel series (technically called the "Monogatari Series") written by Japanese novelist Nisio Isin and illustrated by Taiwanese illustrator Vofan; the series is published by Kodansha under the Kodansha Box imprint. An anime adaptation by Shaft began airing on July 3, 2009, comprised of 15 episodes. Several anime sequels (Nisemonogatari, Nekomonogatari (Black), etc.) have been released and are usually referred to collectively as the "Monogatari (series)".[1] The anime adaptations cover most of the light novel series, but did not have chronological synchronization as the series went on.
Bakemonogatari focuses around Koyomi Araragi, a third year high school student. During Golden week Koyomi becomes a vampire then is returned to a near human state with the help of Meme Oshino, an expert in the apparitions field. One day, a classmate named Hitagi Senjōgahara, who infamously never talks to anyone, falls down the stairs into Koyomi's arms. He discovers that Hitagi weighs next to nothing, in defiance of physics. Although Hitagi threatens Koyomi, he offers to help Hitagi and introduces her to Meme in an attempt to restore her weight.
The series introduces additional heroines, each with their own apparition. Each heroine also are in possession of items that symbolize their apparition, such as Hitagi's staplers representing the claws of the crab and Mayoi's backpack representing the shell of a snail. Each story also builds on the events of the subsequent ones and largely focuses on conversations between the characters, including the trademark word plays and meta-humor of Nisio Isin's work.
Anime series
Edit
Prequel movies
Kizumonogatari I: Tekketsu-hen (movie, 2016)[2]
Kizumonogatari II: Nekketsu-hen (movie, 2016)[3]
Kizumonogatari III: Reiketsu-hen (movie, 2017)[4]
Nekomonogatari (Black) (4 episodes, 2012)
Bakemonogatari (15 episodes, 2009)
Nisemonogatari (11 episodes, 2012)
Monogatari Series: Second Season (26 episodes, 2013)

Monogatari Series: Second Season Arc: Nekomonogatari (White) (5 episodes)
Monogatari Series: Second Season Arc: Kabukimonogatari (4 episodes)
Monogatari Series: Second Season Arc: Otorimonogatari (4 episodes)
Monogatari Series: Second Season Arc: Onimonogatari (4 episodes)
Monogatari Series: Second Season Arc: Koimonogatari (6 episodes)
Monogatari Series: Second Season Recap episodes (3 episodes)

Hanamonogatari (5 episodes, 2014)
Final season[7]
Tsukimonogatari (4 episodes, 2014)

Side story: Owarimonogatari (12 episodes, 2015)
Side story: Koyomimonogatari (ONA 12 episodes, 2016)
Side story: Owarimonogatari 2nd Season (7 episodes, 2017)

Zoku Owarimonogatari (? episodes, 2018)
Anime movies
Edit
External Links
Edit
Other Sources
Edit
Other Wikis
Edit
References
Edit
↑ 1.0 1.1 1.2 Monogatari (series) at Wikipedia
↑ Nekomonogatari Kuro (aka Nekomonogatari (Black))