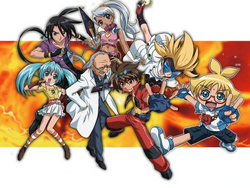 ---
Bakugan Wiki
Wiki founding
: 2008/03/11
Page count
: 5,701
Last checked
: 2021/05/05
---
Bakugan Battle Brawlers (爆丸バトルブローラーズ, Bakugan Batoru Burōrāzu) is a Japanese-Canadian action adventure television series produced by TMS Entertainment and Nelvana Animation under the direction of Mitsuo Hashimoto. Though initially a failure in Japan, the series became popular in the United States and Canada, prompting the creation/order of several follow-up seasons, (New Vestroia, and Gundalian Invaders) which aired in other countries before Japan. The fourth and final season, Mechtanium Surge, was never broadcast in Japan and instead aired in Canadian and U.S. markets. The Bakugan franchise are co-produced from Spin Master and Sega Toys, with animation by TMS Entertainment and Nelvana Animation.
A spin off series called Baku Tech! Bakugan which featured the characters from the manga of the same name aired on TV Tokyo from April 7, 2012 to March 30, 2013. It was followed by a sequel series called Baku Tech! Bakugan Gachi which ran from April 6, 2013 to December 28, 2013.
A reboot called Bakugan: Battle Planet was released in 2018. It was followed by two more seasons (Bakugan: Armored Alliance and Bakugan: Geogan Rising), so far.....
Plot
[
]
In Battle Brawlers Dan Kuso's life changed one day when random cards fell out of the sky, where he and his friend Shun invented a game with called Bakugan. Together with his friends Runo, Marucho, Julie, Shun, and Alice, the group Bakugan Battle Brawlers is formed and its members are accidentally dragged into fighting for the fate of Vestroia (the Bakugan's home dimension) against the Doom Beings.
It is the story of a dimension called Vestroia which loses its natural balance and merges with the Earth and many other alien planets. An evil Bakugan called Naga was tempted and decided to take the Silent Core. So Dan and his friends decided to bring back balance by meeting new friends and allies in the other planets, learn more about the origin of the Bakugan; and facing Naga, who seeks to complete the Perfect Core.
In New Vestroia following the short return of peace on New Vestroia, calamity strikes them again. An alien race known as the Vestals have invaded and conquered New Vestroia, creating three Dimension Controllers to change the Bakugan them back into ball form and using the Bakugan as a form of entertainment. On top of that, five of the original Bakugan that helped restore order to New Vestroia have been captured, and Drago is now being targeted. With the help of Dan, Marucho, Shun, and the Bakugan Battle Brawlers Resistance—a group of Vestals who have discovered that Bakugan are sentient and are fighting for their freedom—Drago believes he will have enough power to not only free New Vestroia, but his friends as well.
In Gundalian Invaders Dan Kuso, Marucho Marukura, and Shun Kazami get caught up in a war between two different alien factions in another universe, teaming up with three new brawlers: the Neathian, Fabia, the new human, Jake, and the undercover Gundalian, Ren, in order to stop the evil Gundalian Protectors, the Twelve Orders, from destroying Neathia, and possibly Earth. They meet these extraterrestrials when they enter through the virtual reality Bakugan Interspace. At first, the Brawlers are deceived into thinking that Neathia had started the war against Gundalia but, as the story progresses, the Brawlers realize that its actually the other way around. The stakes are high! Will the Battle Brawlers defeat the Twelve Orders, saving the Bakugan once more? Or will they lose this time?
In Mechtanium Surge First Arc: Bakugan Interspace gets messy when Dan learns his battling directly threatens Earth. Drago's exposure to Code Eve has infused him with incredible power, causing him to unwittingly release Mechtogan Zenthon, a new mysterious entity that wreaks havoc whenever Drago battles! While Dan attempts to regain control over Drago's new powers, an insidious enemy builds an army of "Chaos Bakugan" engineered for total world domination! Will Dan be able to get a hold of Drago's power before its to late?
Second Arc: Bakugan City is off to a peaceful start now that humans have communed with the Bakugan from New Vestroia. This comes to an abrupt end, however, when four Mechtogan who have broken free from their Bakugan start terrorizing the world. Not only that, but some creep called Wiseman has appeared with ancient Bakugan called the Nonets. It's now up to the Battle Brawlers to stop Wiseman, the Nonets, and the Mechtogan's greatest weapon: Mechtavius Destroyer!
In Battle Planet The season follows the adventures of Dan Kouzo and the AO (the Awesome Ones), the first kids on Earth to bond with the mysterious alien creatures known as the Bakugan. The storyline revolves around friendship, battling, and competition. Near the end of the season Dan and the AO try to defeat Tiko.
In Armored Alliance Dan kouzo and the AO (the Awesome Ones) Discover Baku Gear (please add more info)
In Geogan Rising (premiered January 24, 2021)...
In Evolution (expected to premiere in 2022)...
External Links
[
]
Official
[
]
Other Sources
[
]
Other Wikis
[
]
References
[
]