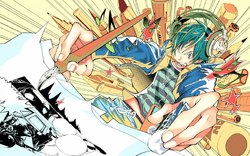 ---
Bakuman Wiki
Wiki founding
: 2008/08/12
Page count
: 484
Last checked
: 2021/05/05
---
Bakuman (バクマン。) is a Japanese shōnen manga written by Tsugumi Ohba and illustrated by Takeshi Obata. The series follows talented artist Moritaka Mashiro and aspiring writer Akito Takagi, two ninth grade boys who wish to become mangaka.
The first chapter was released in Japan on August 11, 2008 serialized in the magazine Weekly Shōnen Jump. The first volume was released on January 5, 2009 and as of November 4, 2009, five volumes have been released. During the first two weeks of its release, the first volume placed fourth and ninth in manga sales in Japan. It is also the first manga released online by Shueisha in multiple languages before becoming available in print outside of Japan. At San Diego Comic-Con International 2009, Viz Media announced they had licensed the series for their Shonen Jump imprint.
A 25-episode anime television series began broadcasting on NHK in the fall of 2010. A second season was part of the 2011 fall season, and premiered in October.
Bakuman begins with Moritaka Mashiro, a junior high student, leaving his notebook containing a drawing of his crush and classmate Azuki Miho in class. When he notices and returns to the classroom after school, his classmate Akito Takagi is waiting for him with the notebook and tells him that he believes Azuki likes Mashiro too. He then tries to persuade Mashiro to become a mangaka and draw the stories Takagi writes. However, Mashiro is reluctant due to disillusion with modern society and the fate of his uncle, a formerly serialized mangaka who died from overwork trying to regain that status.
Later Mashiro gets a phone call from Takagi in which he is told that Takagi will announce Mashiro's feelings to Azuki. Mashiro runs down to Azuki's house to find Takagi waiting for him. Once Azuki comes out to meet them, Takagi tells her that he and Mashiro are aiming to be mangaka. Mashiro then learns that she wants to be a voice actor and Mashiro, thinking of the romantic misadventures of his uncle, proposes to Azuki who accepts under the condition that they will only marry after both achieve their dreams. With a goal before him Mashiro sets out to make this dream a reality. His goal is to have Azuki voice the heroine of the Anime adaptation of his manga. Due to the highest probability for success, he and Takagi vow to become serialized in Weekly Shonen Jump and attempt to become the most popular manga in that magazine.
After submitting many one shots to Shueisha, Mashiro and Takagi begin with their first published series, Detective Trap, which was eventually canceled due to its declining popularity. Shortly after Mashiro and Takagi begin work on their next series, Run, Daihatsu Tanto!, a gag manga. They decide to quit the series due to its unpopularity and begin planning their next manga series, and submit their latest work The Perfect Crime Club to Shueisha.
Community content is available under
CC-BY-SA
unless otherwise noted.