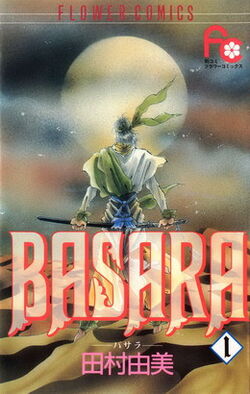 ---
---
Genre:

Media:
Basara (バサラ) is a shōjo manga written by Yumi Tamura. The manga, which consists of 27 tankōbon volumes, won the Shogakukan Manga Award for shōjo in 1992. It was adapted as an anime that follows only part of the manga story, cutting off after 13 episodes. In North America, the manga is published by Viz Media in English.
In Basara's post-apocalyptic setting, Japan has been controlled by a succession of corrupt and oppressive rulers of Saffron Clan. The current one is the Golden Emperor, a sovereign so obsessed with maintaining his power that he has had most of his children killed. He later appointed territories to the remaining children, allowing them to rule as subordinate kings and expend their energies in rivalries amongst each other, instead of trying to dethrone him. As a result, most of the Kings neglect the people they rule.
Though the peasants have been downtrodden for decades, they have not completely lost their rebellious spirit. Four swords named for the Ssu Ling gods - Byakko, Suzaku, Seiryū and Genbu - forged for fallen rebel leaders two generations past, are the symbols of underground resistance groups across Japan. The sword of Byakko is kept in Byakko Village, and according to a prophet, a child of fate who will lead a revolution will be born there. When a pair of twins are born - a girl and a boy - the prophet says that one of them is the child of destiny. Villagers believe the boy, Tatara, is the child of destiny, but ultimately the girl, Sarasa, is the leader. When the local ruler, the Red King, destroys her village and has her brother beheaded, she assumes his name and duty to lead her people in rebellion.
Sarasa undergoes psychological strain over having to pretend to be a boy. As such, she often visits hot springs to 'let her hair down.' During these visits, she runs into a mysterious young man named Shuri, and they fall in love with each other.
Unknown to Sarasa, Shuri is really the Red King, upon whom she has sworn revenge for destroying her village and killing her family. The Red King is likewise unaware that Sarasa, in her alter ego, is the rebel leader he is trying to kill. As the story progresses, the pair's relationship deepens even as their struggle becomes more bloody.
Community content is available under
CC-BY-SA
unless otherwise noted.