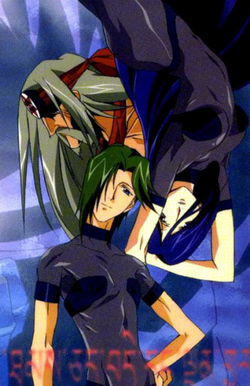 ---
GaoGaiGar-Betterman Wiki
Wiki founding
: August 29, 2007
Page count
: 630
Last checked
: November 1, 2017
---
---
Betterman (ベターマン) is a Japanese anime television series which began airing in 1999. It was created by Sunrise's internal "Studio 7" under the direction of Yoshitomo Yonetani. Betterman uses heavily Jungian symbolism and themes, such as Animus.
The series' plot focuses on the threat of "Algernon," a mutation in the brain which causes an accelerated alteration in the sensory, neural and nervous faculties. Those subjected to the phenomenon become violently hostile, suicidal, and share a hive mind collective with those who share the disease. Akamatsu Industries, a group designated to research and counteract Algernon, head a covert squadron of Neuronoids, robots piloted by Dual Kinds to inspect areas exposed to contamination and neutralize any threats brought thereabout. Keita Aono, a high school student, is brought into the fold after a chance encounter with a childhood friend, Hinoki Sai.
The titular hero of the series, Betterman, is a life form of superior physical and mental capabilities via adaptation of "seeds." Through the resulting consumption of these plants, Betterman can metamorphose into situational combat forms. His most common form is the humanoid "Betterman Lamia." Each transformation allows Betterman to attain distinct physical-, psionic-, and mobility-related abilities.
Community content is available under
CC-BY-SA
unless otherwise noted.