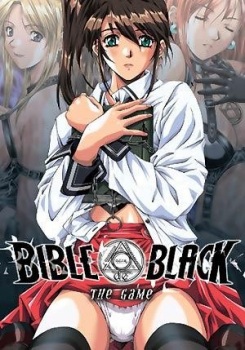 ---
---
Genre:

Media:

Anime, Visual Novel, OVA, Game
Bible Black (バイブルブラック, Baiburuburakku) is a Japanese hentai series comprising two eroge computer games (visual novels) and three episodic anime series.
The first game was released on PC on July 14, 2000 in Japan and was adapted into six adult anime episodes by the Japanese animation studio Milky Studio (part of MS Pictures) a year later. The hentai series is loosely based on events and scenes from the game. The following year, a two-episode prequel was produced, explaining the origins of the first series.
In 2004, Milky Studio produced a sequel series of six episodes, which continues the story of some characters seen in the original anime. The latest anime series consists of side-stories, explaining what happened to various characters around the events of the first series.
Finally, a short second eroge game in the same style as the first one was published in 2008.
A live-action movie was proposed in mid-2011 and remains in pre-production.
Game and first series (La Noche de Walpurgis)Edit
Academy student Taki Minase finds a magic book in the abandoned basement of his school. He translates the occult writings and uses the ancient magic spells to influence the sexual desires of his classmates. Teachers and students learn of his magical exploits and try to sway him to their side. Minase learns the mysterious history of school nurse and witch Reika Kitami, and art teacher Hiroko Takashiro tries to warn him about meddling with the powers of darkness.
Prequel series (Origins)Edit
A prequel to the original series that explains the backstory of professor Takashiro. She started her own magic club at school with some of her friends. The ambitious and evil student council president Nami Kozono usurps her leadership and intends to summon the Devil himself by sacrificing the young Reika Kitami.
Sequel series (New Testament)Edit
Years have passed since the first series, and the students of the Academy have all made their way into the world. Rika Shiraki and Kaori Saeki become teachers at their former school, while art professor Hiroko Takashiro becomes a nun. Kurumi Imari has become a member of Tokken, a psychic investigation agency. They again become entangled into a dark plot that involves the mysterious girl Jody Crowley, granddaughter of famous occultist Aleister Crowley.
Side stories (Only)Edit
The final anime production consists of three episodes (referred to as volumes), a collection of short erotic side stories that take place around the events of the first series. Some scenes depict elements and characters from the original Bible Black game that were not seen in the first anime
Second game (The Infection)Edit
The latest addition to the series. Reika Kitami returns to haunt Taki Minase's dreams and again drags his mind into darkness.
The Bible Black Wiki (formerly located at bibleblack) was moved off wikia and the wikia location was closed by the admin in December 2017. It was founded on January 17, 2012 and had 139 pages. Prior to the closure/move, the wiki had been subjected to content deletions by staff for allegedly inappropriate content. Although the wiki was voluntarily closed by the admin, the database is not available for download, which is done when a wiki is in violation of the Terms of Use per Wikia's policy on closure.
External Links
Edit
Other Sources
Edit
Other Wikis
Edit
References
Edit