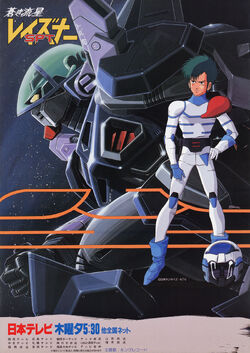 ---
Mechapedia
Wiki founding
: September 25, 2006
Page count
: 58
Last checked
: March 18, 2019
---
---
Blue Comet SPT Layzner (蒼き流星SPTレイズナー, Aoki Ryūsei Esu Pī Tī Reizunā) is a Japanese mecha anime series produced by Sunrise. It aired for 38 episodes on Nippon Television from October 3, 1985 to June 26, 1986.
In an alternate 1996, humanity has advanced through the boundaries of space travel between Mars and the Moon, establishing settlements there. But the Cold War has yet to cease as the tensions increase between the USA and the Soviet Union, and the threat of nuclear war looms on the horizon.
But soon, an unknown menace befalls humanity on Mars. Members of an exchange program funded by the United Nations to promote peace find themselves trapped in a crossfire between four mysterious humanoid robots. Three of the robots begin firing on the exchange program's base, killing almost all of the students. Only a few people survive, but they find themselves isolated on an inhospitable planet that has become a battlefield. And, as if this wasn't enough, the pilot of the fourth robot, who had been trying not to involve the civilians in the battle, actually presents himself to the survivors, introducing himself as Albatro Null, a.k.a., Eiji Asuka, and telling them that the Earth is being targeted for occupation by the far-away Grados Empire.
Community content is available under
CC-BY-SA
unless otherwise noted.