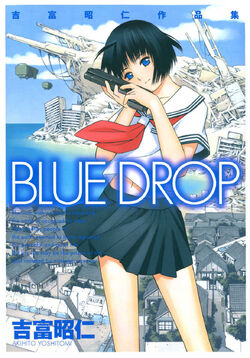 ---
---
Genre:

Drama , Romance , Science Fiction 

Media:
Blue Drop (ブルー ドロップ, Burū Doroppu) is a Japanese manga series created by Akihito Yoshitomi. It comprises five chapters that were serialized in the shōnen manga magazine Dengeki Comic Gao! from June 2004 to December 2005, and later collected into a single volume.
In 2007, Yoshitomi began to work on a sequel entitled Blue Drop: Tenshi no Bokura (BLUE DROP ~天使の僕ら~), which was serialized in the manga magazine Champion Red between February 19, 2007 and January 19, 2008, with its 14 chapters later compiled into 2 volumes. Each volume contained a chapter of another series called Tenshi no Itazura (天使の悪戯), where the final chapters were released in the anime DVDs.
The anime adaptation entitled Blue Drop: Tenshitachi no Gikyoku (BLUE DROP ~天使達の戯曲~), was produced by Asahi Production and BeSTACK, directed by Masahiko Ohkura and aired in Japan between October 2 and December 25, 2007. The first DVD release on December 26, 2007 was accompanied with a bonus 6-chapter manga volume called Maiorita Tenshi (〜舞い降りた天使〜 Descended Angel).
In the future where mankind has been defeated by an alien race of females. Having completely taken over the Earth the aliens do as they please, genetically modifying humans for their fancies and needs.
Community content is available under
CC-BY-SA
unless otherwise noted.