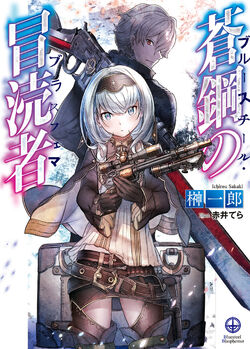 ---
---
Genre:

Media:
Bluesteel Blasphemer (蒼鋼の冒涜者<ブルースチール・ブラスフェマ>) is a light novel series by Ichirou Sakaki with illustrations by Tera Akai. The first volume was released May 1, 2015, and it is complete in four volumes. J-Novel Club has released it digitally in English.
Yukinari Amano loves guns. After reincarnating into another world, the young man goes on a journey with Dasa, the younger sister of the girl who gave him a second life. However, while on the road, the pair are attacked by a local deity—an "erdgod." No normal person could possibly defeat one—so when Yukinari uses his knowledge of guns and newfound abilities to do the impossible, he becomes worshipped as the area's new god himself!
Official English site[1]
Community content is available under
CC-BY-SA
unless otherwise noted.