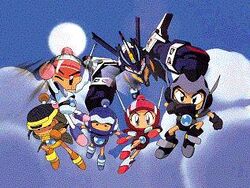 ---
Bomberman Wiki
Wiki founding: 2012/07/17
Page count: 1,491
Last checked: 2017/06/20

---
Fanon Wiki: Bomberman Fanon Wiki
---
Bomberman (ボンバーマン, Bonbāman, also known as Dyna Blaster in Europe) is a strategic, maze-based video game franchise originally developed by Hudson Soft and currently owned by Konami. The original game was published in 1983 and new games have been published at irregular intervals ever since. Several titles in the 2000s were published by fellow Japanese game company Konami, who gained full control of the franchise when they absorbed Hudson in 2012. Today, Bomberman has featured in over 70 different games on numerous platforms (including all Nintendo platforms save for the 3DS and Wii U. One was planned for the 3DS, but was later cancelled), as well as several anime and manga. His franchise is one of the most commercially successful of all time. At the Nintendo Switch Presentation on 13 January 2017, Super Bomberman R was announced as a Nintendo Switch launch title.
Bomberman B-Daman Bakugaiden (ボンバーマン・ビーダマン爆外伝 Bombāman Bī-daman Bakugaiden) is a CoroCoro Comic series created by Koichi Mikata, based on Bomberman and B-Daman. An animated television series was created and originally broadcast on Nagoya TV and TV Asahi in 1998.
Bomberman B-Daman Bakugaiden Victory or Bomberman B-Daman Bakugaiden V is a Coro Coro Comic series by Koichi Mikata, based on Bomberman and B-Daman. The animated television series is broadcast on Nagoya TV in 1999. It is a sequel to Bomberman B-Daman Bakugaiden.
Bomberman Jetters (ボンバーマンジェッターズ Bonbāman Jettāzu) is a 2002 Japanese anime television series created by Studio Deen and NAS. It has also spawned two manga series and three video games, one of which was localized and given an English dub.
Plot
[
]
Bomberman
The games are set somewhere in a galaxy known as the Bomber Nebula, usually on Bomberman's home planet, Planet Bomber. The original Japanese home computer games had no real storyline. Bomberman for Famicom/NES and Atomic Punk for Game Boy begin with "Bomberman" (the eponymous character of the game) growing bored of making bombs in an underground factory of the Bungeling Empire. After hearing a rumor that robots reaching the surface become human, he decides to escape. When he does, he transforms into an organic human being and becomes known as the "Runner."
Bomberman Jetters
Deep Space, many different cultures have come together to live on planet Jet. To keep the peace an organization known as the Jetters is formed. This space police group fight against the villains known as the "Hige hige dan" making sure that the universe is safe. The leader of the jetters Mighty is a powerful Bomberman, who is looked up to and respected....his brother however is a lazy crude slacker named Shirobon. Suddenly Mighty disappears and Shiro finds himself placed in a new situation. Shiro steps up and become a responsible Bomberman, and with the new friends he made of the Jetters it may become possible for him to be the next "Jetters leader."
External Links
[
]
Official
[
]
Other Sources
[
]
Other Wikis
[
]
References
[
]