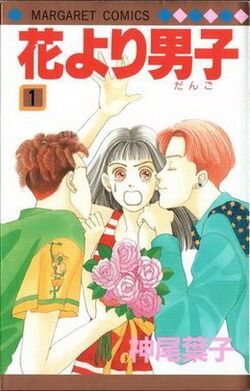 ---
Boys Over Flowers
Wiki founding
: October 6, 2012
Page count
: 774
Last checked
: December 3, 2017
---
Boys Over Flowers (花より男子, Hana Yori Dango) is a Japanese shōjo manga series written and illustrated by Yoko Kamio. Hana Yori Dango was serialized in Shueisha's bi-weekly Margaret magazine from October 1992 to September 2003, and was collected into 37 tankōbon volumes. The manga has been adapted into a 51-episode anime series (which closely follows the manga) and an anime film. The manga has been licensed by Viz Media for publication in the United States. The manga series has also been adapted into live-action television drama series in both Japan and Korea, and in Taiwan it was also adapted into two live-action films.
Boys Over Flowers won the 41st Shogakukan Manga Award for shōjo manga. It is also the best-selling shōjo manga of all time, having sold 61 million copies as of 2015.
Kamio began a sequel, titled Boys Over Flowers Season 2, in Shueisha's Shōnen Jump+ online magazine on February 15, 2015.
Eitoku Academy (英徳学園 Eitoku Gakuen) is a school that caters to children and from rich, high-society families. Hence, Makino, who comes from a poor family, is considered by others as the "weed" of the school. The school is ruled by the "Flower Four" group, more commonly known as the F4. The F4 leader, and son of the wealthiest, most powerful family in Japan, Tsukasa Domyouji, takes an interest in Tsukushi because she is the only girl at Eitoku who does not fawn over him. However, his hot-headed nature and bullying ways are originally a major turn-off for Tsukushi, who has her sights set on Rui Hanazawa.
The violinist Rui Hanazawa, Tsukasa's best friend, becomes Tsukushi's first serious romantic interest. He is a quiet and cool guy, but he has a soft spot for his close friend and Tsukushi's idol, the model Shizuka Todou, whom he harbored feelings for since childhood. His character is a bit complex, and always has changing feelings for Tsukushi, but above all cares about her a lot.
The other two members of the F4 are Akira Mimasaka, the laid-back peacemaker of the group, and Sojirou Nishikado, an unrepentant playboy. They both usually have at least one girlfriend at any one time; Akira prefers older women because the women of his household (his mother and two younger sisters) are quite childish. Sojirou is happy to be in casual relationships with many women, although we later discover that at one time he was in love with a childhood friend.
Over time, Tsukushi's feelings towards Tsukasa evolve, as she begins to appreciate the degree of change that occurred in Tsukasa once he fell in love with her. Tsukasa becomes fiercely loyal to Tsukushi and believes in her beyond all doubt, and slowly gets her to see him in a different light. However, because of the difference in their family background, Tsukushi and Tsukasa's relationship received a lot of opposition from Tsukasa's mother. Tsukasa's mother then tries all ways and means to break the pair up.
Community content is available under
CC-BY-SA
unless otherwise noted.