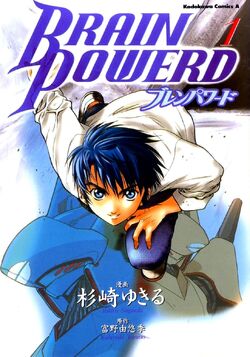 ---
---
Demographic:

Genre:

Tags:

Media:
Brain Powerd (ブレンパワード, Buren Pawādo) is a Japanese anime television series created by Sunrise.
The 26-episode Brain Powerd television series originally premiered across Japan on the satellite channel WOWOW between April 8 and November 11, 1998. The series was also aired across Japan on the anime network Animax, which also later broadcast the series across its respective networks worldwide, including its English language networks in Southeast Asia and South Asia. Animax aired Bandai Entertainment's localization, the series' English language television premiere. The anime series was licensed by Bandai and distributed across the region on DVD under the title Brain Powered. The series was also adapted into a manga, with art by Yukiru Sugisaki, which was serialized in Japan's Kadokawa Shoten magazine Shōnen Ace and later published in the United States in English by Tokyopop. A series of light novels, music CDs, and other merchandise relating to Brain Power' also exist.
Plot
[
]
Brain Powerd is set in a future time in which Earth has been afflicted by earthquakes and floods. The source of this is a traced to a gargantuan, alien spacecraft dubbed "Orphan", which sits deep beneath the Pacific Ocean. Scientists Kensaku Isami and Midori Isami work within Orphan in order to uncover its vast knowledge, reach the Earth's surface with the craft, and travel the galaxy, resulting in the annihilation of all lifeforms on Earth. Their agents, the "Reclaimers", pilot living organic mechas (or "Antibodies") in the army Grand Cher, and seek to retrieve Orphan's vital disc plates which are scattered across the planet. The series begins with the teenage lead Hime Utsumiya venturing upon such a disc plate, which revives into a unique Antibody, called "Brain Powerd", with which she forms a deep connection. Within a year, Hime joins a group wishing the counter the ideals of the Orphan researchers, stationed aboard the battleship Novis Noah. She is soon joined by Yu Isami, an ex-Reclaimer who leaves Orphan after learning of the catastrophe his parents seek to unleash. Hime and Yu soon enter upon an adventure which may decide the future of humanity.
External Links
[
]
Official
[
]
Other Sources
[
]
Other Wikis
[
]