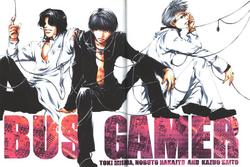 ---
Bus Gamer Wiki
Wiki founding
: 2009/09/12
Page count
: 5
Last checked
: 2017/03/27
---
---
Genre:

Media:
Bus Gamer (ビズゲーマー, Bizu Gēmā) is a short-lived Japanese manga series created by Kazuya Minekura (峰倉かずや, Minekura Kazuya). It only exists as a single volume Pilot Edition due to difficulties in serialization. The manga has been licensed for North American distribution by Tokyopop.[1] Initially serialized in Japan in the quarterly magazine Stencil from year 1999 Spring Edition to year 2000 Spring Edition, it was switched to the monthly version of 'Stencil' after the former's publication was suspended. The last issue from Stencil was year 2002 January Edition. From year 2006 onwards, the manga was re-issued under Comic Rex by Ichijinsha Inc. (一迅社), during which the 3 main characters' past and how they met were more fully fleshed out.
It has also produced a drama CD featuring the voices of Suzumura Kenichi, Suwabe Junichi, and Hiroki Takahashi. An anime adaptation of the manga premiered on the Japanese television network KBS Kyoto between March 14 and March 28, 2008, airing a total of three episodes. It is directed by Naoyuki Kuzuya, produced by Frontier Works, and animated by Studio Izena. The characters are voiced by the same voice actors in the drama CD.
Plot
[
]
An illegal dog-fight conducted in strict secrecy, the Bus Game is a battle simulation game where gamers are selected by various corporations to compete three-on-three on a battleground which is usually inside Tokyo. The teams are divided into "HOME" and "AWAY". The "HOME" team is given a disk containing their corporation's secret files to protect while the "AWAY" team attempts to steal the disk. The "AWAY" team wins if they are able to steal the disk within the given time limit where the "HOME" team wins if they are able to keep their disk safe. The game information and details are distributed to the gamers via mini-disk. The businesses participating in the Bus Game wager large amounts of money on each game, watching the action from a distance. In other words, the Bus Games is a gambling pastime in which the gamers are pawns for their amusement. In exchange for putting their lives at stake, the gamers stand to gain large amount of money, through their contracts and through winning each match of the Bus Game.
When three complete strangers, Toki Mishiba, Nobuto Nakajyo, and Kazuo Saitoh, are hired by a corporation to compete in the Bus Game, they are given the team code of "Team AAA" (Triple Anonymous or No Name). This group of three who differ entirely from their living environment and values to protect each other's lives --- but without mutually wiping out their mistrust of each other or prying into each other's privacy, it would be the worst sort of teamwork, conflicting in every way. They only have one point in common, simply that each of them need a large amount of money for their individual circumstances. And to get the large monetary award, they must play in the game despite their very own lives being at stake.
External Links
[
]
Official
[
]
Other Sources
[
]
Other Wikis
[
]
References
[
]