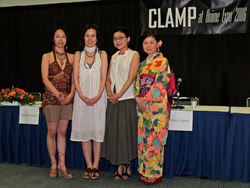 CLAMP (クランプ, Kuranpu), is an all-female Japanese manga artist group that formed in the mid 1980s. Many of the group's manga series are often adapted into anime after release. It consists of their leader Nanase Ohkawa (大川 七瀬, Ōkawa Nanase), who provides much of the storyline and screenplay for all their works and adaptations of those works respectively, and three artists whose roles shift for each series: Mokona (もこな, Mokona), Tsubaki Nekoi (猫井 椿, Nekoi Tsubaki), and Satsuki Igarashi (いがらし 寒月, Igarashi Satsuki). Almost 100 million CLAMP tankōbon copies have been sold worldwide as of October 2007.
Beginning as an eleven-member dōjinshi circle in the mid 1980s, they began creating original work in 1987. By the time they debuted with RG Veda in 1989, their numbers were reduced to seven. In 1993, three more members left, leaving the four members who are currently still part of the group. In 2006, each member decided to change her name, however later Nanase Ohkawa decided to change her name back (from Ageha Ohkawa back to her original name Nanase Ohkawa).
Community content is available under
CC-BY-SA
unless otherwise noted.