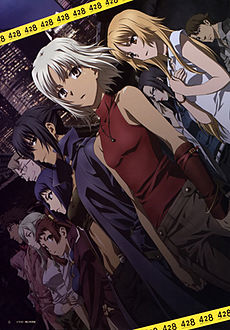 ---
Canaan Wiki
Wiki founding
: July 17, 2009
Page count
: 14
Last checked
: July 14, 2017
---
---
Genre:

Action , Adventure , Drama , Supernatural 

Tags:

Girls with Guns 

Media:
Canaan is a 13-episode anime television series, conceptualized by Type-Moon co-founders Kinoko Nasu and Takashi Takeuchi, based on the scenario that they created for the Nintendo Wii visual novel 428: Fūsa Sareta Shibuya de.
The Canaan series has spawned a 13-episode anime TV show with a manga and light novel print series. As of September 30, 2010, the Anime Network has the anime online for North America.
Two years after the events of 428: Fūsa Sareta Shibuya de, Maria Ōsawa and Minoru Minorikawa are dispatched as reporters to Shanghai in order to cover the upcoming Shanghai NBCR International Anti-Terrorist Conference. Prior to their current assignment, both Maria and Minoru were survivors of the Shibuya bio-terrorism incident, where Maria was kidnapped by terrorists and was infected by the Ua virus but was cured by her scientist father using an experimental anti-Ua virus vaccine. Maria is later saved by her friend, a Middle Eastern girl named Canaan after being targeted for death by masked assassins on her first day in Shanghai after she befriended her in the Middle East prior to the events of 428: Fūsa Sareta Shibuya de and her Shanghai trip.
Their presence in the city is being overshadowed by a mysterious event being planned by Alphard, Canaan's rival. Unknown to the two, Alphard is preparing a big plot related to the anti-terrorist summit after being rescued by Cummings and Liang Qi, a pair of mercenaries and Alphard's allies. Maria's life was placed in danger once more when Snake assassins were dispatched to harm her, placing Canaan at the forefront of it all in order to protect her friend. Minoru investigates a strange purple mark that he spotted from one of the assassins Canaan had killed recently, tying it back to the events in Shibuya.
Canaan and Alphard continue to violently confront one another before and after the terrorist attack on the anti-terrorist summit, the latter trying to make Canaan fight her with all of her strength. The reason for their rivalry was Siam, a mercenary and mentor to Canaan, who was gunned down by Alphard during a joint mission together in an attempt to forge her own path without being influenced by Siam as she also was raised by him with the name Canaan once before she discarded it for her current name. Canaan later goes on a journey with Mino, Maria and several others to Western China where a new Ua virus was first used to find out about its origin and track down Alphard.
After Maria and Minoru made their safe return to Japan from their journey in China, Maria opened a photo gallery and reflected on the friendship she and Canaan shared. One of the portraits she had for public display was named Canaan. It consisted of pictures of Alphard, who was formerly known as Canaan, and the Canaan she knew back from her Middle East trip.
Community content is available under
CC-BY-SA
unless otherwise noted.