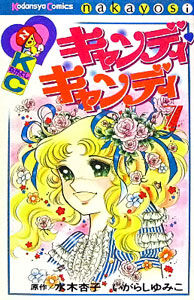 ---
Candy Candy Wiki
Wiki founding
: October 2, 2012
Page count
: 7
Last checked
: February 26, 2017
---
---
Candy Candy (キャンディ・キャンディ) is a Japanese novel, manga, and anime series.
Candy Candy first appeared in a prose novel by famed Japanese writer Kyoko Mizuki in April 1975. When Mizuki joined forces with manga artist Yumiko Igarashi, the Japanese magazine Nakayoshi became interested in Candy Candy. The series was serialized as a manga series in the magazine for four years and won the 1st Kodansha Manga Award for shōjo in 1977. The story was adapted into an anime series by Toei animation. There are also several Candy Candy movies which were never released outside of Japan.
The Candy Candy manga is a "slice of life story" in the shōjo genre. Candy is an abandoned orphan taken in by the orphanage Pony's Home near Lake Michigan around the start of the 20th century. She spends the first years of her life at the orphanage, where she will often return to repose and decide her next course in life. Growing up she gets adopted twice, first by the Leagans who treat her poorly, and after that by a wealthy benefactor whom she does not meet until the end of the story. But he is heir to an important estate, and a relation of her first love Anthony and his cousins the Cornwell brothers. After Anthony dies, Candy gets an education in London where she meets the rebellious Terry, her second and grand love (in the words of the author Keiko Nagita/Kyoko Mizuki in the essays found on Misaki's website, "the great love that cannot bear fruit"). Circumstances seem to constantly divide the pair. Upon her return to the US, she trains and gains experience as a nurse in Chicago, around the time of World War I, while Terry tries to become a Broadway actor. A member of his theater troup, Susannah, hopes to get between Candy and Terry. Eventually both have to make a decision to sacrifice their own happiness as a couple for the sake of a third person. With the revelation of the identity of her guardian, Candy also discovers who her childhood Prince of the Hill is.
Community content is available under
CC-BY-SA
unless otherwise noted.