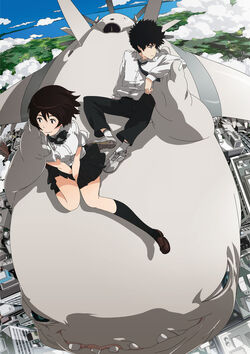 ---
---
Demographic:

Genre:

Media:
Cencoroll (センコロール, Senkorōru) is a 2009 Japanese anime science fiction film nearly singlehandedly created by manga author Atsuya Uki. It was produced by Anime Innovation Tokyo and Aniplex, which made its world premiere at Canada's Fantasia International Film Festival on July 28, 2009. The film made its theatrical debut on August 22, 2009 in Tokyo and Osaka, and premiered overseas at the New York Anime Festival on September 25, 2009. A sequel named Cencoroll 2, was released on June 29, 2019, in a dual-screening featuring the first film as Cencoroll Connect.
When a gigantic, unearthly monster suddenly looms on the skyline of a Japanese city, the expected occurs—the Japan Self-Defense Forces roll out the tanks while the public panics. Nobody knows what it is or where it came from, but Yuki, a bold and inquisitive teenage girl, has a secret but might be a useful clue. Her friend Tetsu has been clandestinely caring for a bizarre creature called Cenco, which will soon prove itself to have some remarkable, even impossible characteristics. Another teenage boy, a stranger with some mysterious link to the monstrosity attacking the city, shows up, and his unwelcome interest in Tetsu's pet snuffs out any doubt of a connection—and lights the fuse for the coming battle.
Community content is available under
CC-BY-SA
unless otherwise noted.