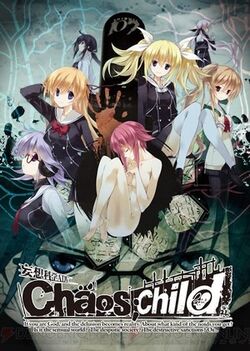 ---
Chaos;Child Wikia
Wiki founding
: February 2, 2019
Page count
: 58
Last checked
: October 16, 2019
---
Genre:

Mystery , Psychological , Science Fiction , Supernatural 

Media:

Anime, Manga, Visual Novel, OVA, Film, Game, Audio Drama, Guide Book
Chaos;Child (カオスチャイルド, Kaosu Chairudo, stylized as ChäoS;Child) is a visual novel video game developed by 5pb. It is the fourth main entry in the Science Adventure series, and a sequel to Chaos;Head (2008). It was released in Japan in 2014 for Xbox One, in 2015 for PlayStation 3, PlayStation 4 and PlayStation Vita, in 2016 for Microsoft Windows, and in 2017 for iOS.
The game was created to have "psycho-suspense" elements similar to Chaos;Head, while also adding a larger amount of horror elements. For the game's aesthetic, the developers aimed for it to be "unmoving", in contrast to the previous Science Adventure game, Robotics;Notes. The composer, Takeshi Abo, wrote down his impressions of the game's events and emotional flow prior to creating the music, to be able to create music with good relationship to the game's worldview. The game was well received by critics, but the Xbox One and PlayStation 3 releases failed to chart on Japanese weekly sales charts during their debut weeks. Other media based on the game has been produced, including an anime adaptation, a manga, an audio drama, and the spin-off game Chaos;Child Love Chu Chu!!.
In the year 2009 during the events of Chaos;Head, a series of gruesome murders in Shibuya dubbed the "New Generation Madness" that involved 7 cases, was followed by a sudden earthquake that reduced the district into nothingness in a single night. Many survivors still remains, and it later would become known as the "Shibuya Earthquake". Multiple victims especially young children suffered symptoms similar to those with PTSD and not long after it was given the name: Chaos Child Syndrome. A restoration plan was carried out and six years later, the city was rebuild into a modern city. However, many questions and rumors still remain about what really happened during the earthquake that the earthquake could have been artificial because of its unnatural size.
Chaos;Child takes place 6 years later where President of the Hekihou Newspaper Club, Takuru Miyashiro along with several other members investigate new mysterious deaths occurring in now known as "Shibuya, a city reborn". Takuru would later discover that the recent mysterious deaths links back to the New Gen murders that happened six years ago. Other strange incidents and weird stickers with a face of a sumo wrestler started appearing around Shibuya as well. Takuru, a self-proclaimed "right-sider" decides to now solve Shibuya's biggest mystery behind the murders.
Community content is available under
CC-BY-SA
unless otherwise noted.