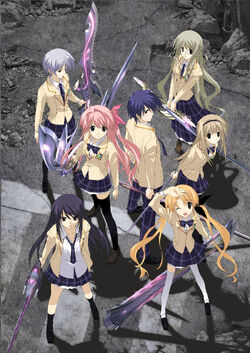 ---
ChäoS;HEAd Wiki
Wiki founding
: April 22, 2014
Page count
: 80
Last checked
: August 25, 2020
---
Genre:

Action , Drama , Horror , Mystery , Psychological , Romance , Science Fiction , Supernatural 

Tags:

Media:
Chaos;Head (カオスヘッド, Kaosu Heddo, stylized as ChäoS;HEAd) is a visual novel video game developed by 5pb. and Nitroplus. It is the first entry in the Science Adventure series, and was originally released for Microsoft Windows in 2008; an enhanced Xbox 360 version titled Chaos;Head Noah was released in 2009, and has since been ported to multiple platforms.
The game was planned by Chiyomaru Shikura and written by Naotaka Hayashi, and features character designs by Mutsumi Sasaki and music by Takeshi Abo and Zizz Studio. Abo read through the game's story before composing the music, a process that took a longer time but made it possible to compose with a better relationship to the game's worldview. Gaming publications have complimented the game's story, and wished for an English release. The game was a success, helping 5pb. establish itself as a game developer. In addition to the game, three manga, an anime series and an internet radio based on Chaos;Head have been released, as well as the spin-off game Chaos;Head Love Chu Chu! and the thematic sequel Chaos;Child.
Chaos;Head's story is set in 2009 in Shibuya and is centered around Takumi Nishijō, a high school student at the private Suimei Academy, and the strange and brutal murders that have recently occurred in the Shibuya area, known as the "New Generation" Madness. The story begins on September 28 with Takumi talking to an online friend called Grim. Grim is trying to bring Takumi up to speed about the recent New Generation events since Takumi is not interested in local or international news. A person named Shogun joins the chat room midway through Grim and Takumi's conversation. After Grim leaves the chat room, Shōgun begins to talk. He speaks in a very cryptic and confusing manner, leaving Takumi nervous. He then sends Takumi a barrage of image links, one of which appears to be of a brutal murder of a man being pinned by stakes to a wall.
The next day, Takumi comes across a real-life murder scene. Witnessing a mysterious pink-haired girl pinning a man up by stakes in an alleyway, he immediately realizes he is witnessing the very murder detailed in the pictures he received the day before. Convinced Shogun is targeting him and the girl he saw committing the murder is somehow connected to him, Takumi tries to avoid getting involved with other New Generation events. However, as Takumi begins attempting to distance himself from the crime he witnessed, he soon catches interest of the police.
With the police suspecting him, and himself convinced that he is being targeted by Shogun, Takumi finds himself caught in a spiral of delusions and paranoia, as he desperately tries to keep himself safe and figure out why he is apparently being targeted. He eventually comes into contact with several other people related to the events, including the girl he saw committing the murder herself. Unsure of what is real or who he can trust, Takumi finds himself thrust into a much larger scheme than he ever thought possible, as the mysterious company NOZOMI carefully plots something from behind the scenes.
Community content is available under
CC-BY-SA
unless otherwise noted.