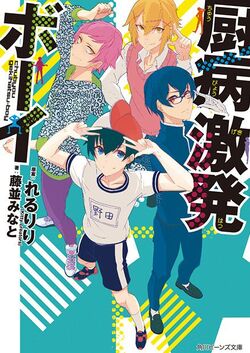 ---
Chuubyou-gekihatsu-boy. Wiki
Wiki founding
: September 27, 2019
Page count
: 15
Last checked
: November 1, 2019
---
Outburst Dreamer Boys (厨病激発ボーイ, Chuubyou Gekihatsu Boy) is a series based on Vocaloid producer rerulili's song Young Disease Outburst Boy and its novelization written Minato Tonami. A manga adaptation serialized by Ribon Special magazine ran from February 2017 to October 2019. An anime series adaptation by Studio Deen premiered in October 2019.
When Mizuki Hijiri transferred to a new school, all she wanted was to live a normal school life, but that did not prove to be the case when she met the infamous Hero Club. All of its members are boys suffering from various types of chuunibyou—Yamato Noda is a righteous hero, using his athletic abilities to perform noble deeds and protect others; Kazuhiro Nakamura claims to be the reincarnation of "Touga Ryushouin," the result of the forbidden union between a demon and an angel; Tomoki Takashima is a pretty-boy otaku whose one true love is the 2D anime girl Sora; and Rei Tsukumo plays the role of a schemer, covertly pulling the strings.
Dragged along as the newest member of the Hero Club, tepid Hijiri can't obtain the normalcy that she desires. But even so, despite their various quirks, their bonds of friendship are real; Hijiri's life can only get more exciting when she joins in on their delusions of grandeur!
Community content is available under
CC-BY-SA
unless otherwise noted.