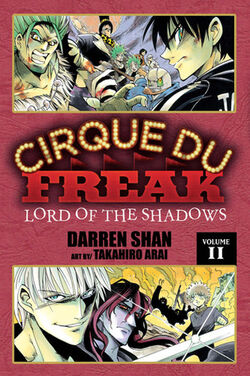 ---
Cirque du Freak Wiki
Wiki founding
: September 25, 2006
Page count
: 439
Last checked
: September 22, 2017
---
Darren Shan (ダレン・シャン, Cirque du Freak) is a manga written and illustrated by Takahiro Arai. It is based on the book series The Saga of Darren Shan by author Darren Shan.
After attending a showing of a freak show known as "Cirque du Freak", a boy named Darren Shan feels inclined to steal a large tarantula from the spider-tamer and revealed vampire, Larten Crepsley. He learns how to control her through telepathy, but while practicing with his best friend, Steve Leonard, the spider is startled and bites Steve's neck. Though the bite doesn't kill him, Steve is left paralyzed and Darren seeks out Crepsely for an antidote. Crepsley agrees to give it to him, on the condition that Darren becomes a vampire; Darren accepts, and is turned into a half-vampire, and Steve is healed. Immediately after, Darren flees from Crepsley, afraid to lose his lifestyle, friends, and family. However, Darren soon realizes that he cannot handle his new strength and thirst for blood, and returns to Crepsley. They stage Darren's death, but before departing from the town, Darren encounters Steve, who vows to become a strong vampire hunter and kill him, feeling betrayed.
Despite needing human blood, Darren only drinks animal blood, and hates Crespley for changing him. He also feels alone, having no family or friends; he tries to blend in with other children, but his lack of control with his strength caused another boy to become injured. He confides to Crepsley about his situation and Crepsley decides to bring him to Cirque du Freak, knowing that Darren would be able to have friends and be himself when surrounded by other strange beings.
Community content is available under
CC-BY-SA
unless otherwise noted.