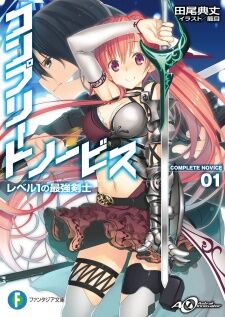 ---
---
Genre:

Action , Adventure , Fantasy , Romance , Science Fiction 

Media:
Complete Novice (コンプリート・ノービス) is a light novel series by Noritake Tao with illustrations by Kagome.
Nogami Hajime is a player who enjoys game challenges such as clearing things at the lowest level possible or playing games with one character. In the VRMMORPG, he plays as Ichino, taking advantage of a certain system in the game which allows him to modify his exp gain such that he remains Level 1, giving him the nickname of "Complete Novice." Three months before the start of the story, his sister, Nogami Ren, had her character data split into 8 key items called "Memory Fragments" when a cracker hacked into the game system. Though the company tried to respond to this, the cracker sent a message to them saying "Continue to manage the game as it is. If you try anything, the same thing will happen to other players." Hajime, along with his father who is one of the game developers, Nogami Jin, and some of his coworkers, decide to do everything they can by the rules. With information he finds from players in game and information his father finds by sifting through the game data, Hajime goes is on a search for the Memory Fragments.
Community content is available under
CC-BY-SA
unless otherwise noted.