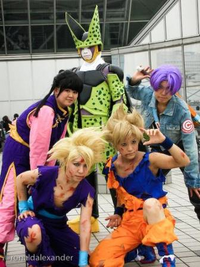 Cosplay
(コスプレ,
kosupure
), short for "costume play", is a type of performance art in which participants don costumes and accessories to represent a specific character or idea. Characters are often drawn from popular fiction in Japan, but recent trends have included American cartoons and Sci-Fi. Favourite sources include
manga
,
anime
, tokusatsu, comic books, graphic novels, video games,
hentai
and
fantasy
movies. Any entity from the real or virtual world that lends itself to dramatic interpretation may be taken up as a subject. Inanimate objects are given anthropomorphic forms and it is not unusual to see genders switched, with women playing male roles and vice versa. There is also a subset of cosplay culture centered around sex appeal, with cosplayers specifically choosing characters that are known for their attractiveness and/or revealing (even explicit) costumes.
Cosplayers often interact to create a subculture centred around role play. A broader use of the term cosplay applies to any costumed role play in venues apart from the stage, regardless of the cultural context.
Practice of Cosplay
Edit
Cosplay costumes can vary greatly. Cosplay is generally considered different from Halloween and Mardi Gras costume wear as the intention is to accurately replicate a specific character, rather than to reflect the culture and symbolism of a holiday event. As such, when in costume, cosplayers will often seek to adopt the affect, mannerisms and body language of the characters they portray (with OoC or, "Out Of Character" breaks). The characters chosen to be cosplayed may be sourced from any movie, tv series, book, comic book, videogame ,Visual-Kei rock bands,
Anime
or
Manga
, however the practice of cosplay is most often associated with replicating anime and manga characters.
Most cosplayers create their own outfits, referencing images of the characters in the process. In the creation of the outfits, much time is given to detail and quality, thus the skill of a cosplayer may be measured by how difficult the details of the outfit is and how well they have been replicated. Many cosplayers therefore consider cosplay to be a form of art and so consider themselves artists, some in the more specific subcatagory of Artisan Crafts. Because of the difficulty of some details and materials to replicate, cosplayers often educate themselves in crafting specialities such as textiles, sculpture, face paint, fibreglasswork, fashion design, woodworking and other such materials in the effort to render the look and texture of a costume accurately. Almost all cosplayers wear wigs in conjuction to their outfit in order to further improve the resemblance to the character. This is especially necessary for anime and manga characters who often have unnaturally coloured and uniquely styled hair.
The cosplayer's purpose may generally be sorted into one of three categories, or a mix. Most cosplayers draw characteristics of all three categories.
The first is to express adoration for a character, or in feeling similar to a character in personality, seeking to become that character. This type of cosplayer may be associated with being a Fan (person) and is often labelled as an Otaku. Other characteristics may be an enthusiastic manner and less attention to detail and quality. Such cosplayers are also most likely to adopt the character's personality and are known to criticise other cosplayers for not having a full knowledge of their character, or not also adopting character mannerisms.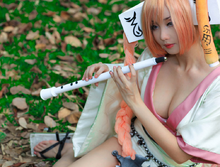 The second is those people who enjoy the attention that cosplaying a certain character brings. Within the cultures of anime and manga specifically, as well as science fiction and fantasy, there is a certain level of
notoriety
that is attached to cosplayers. Such cosplayers are usually characterised by attention to detail in their garments and their choice of popular characters. They are also noted by participation in cosplay competitions.
The third is those who enjoy the creative process, and the sense of personal achievement upon completion. Such people are more likely to have a greater budget dedicated to the project, more complicated and better quality outfits with access to more materials. They are also more likely to engage with professional photographers and cosplay photographers to take high quality images of the cosplayer in their garment posing as the character.
Presentation
Edit
Cosplay may be presented in a number of ways and places.
Photography
Edit
As mentioned above, some cosplayers choose to have a photographer take high quality images of the cosplayer in their garment posing as the character. This is most likely to take place in a setting relevant to the character's origin, such as churches, parks, forests, water features and abandoned/run-down sites. Such cosplayers are likely to exhibit their work online, on blogs or artist websites, such as DeviantArt.com. They may also choose sell such images, or print the images as postcards and give them as gifts. Because of the rising popularity of cosplay photography, some photographers may choose to work exclusively as a cosplay photographer.
Conventions
Edit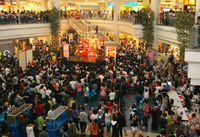 The most popular form of presenting a cosplay is by wearing it to a convention. Conventions dedicated to anime, manga, comics, tv shows, video games, science fiction and
fantasy
may be found all around the world. The USA alone features nearly a hundred conventions across the country each year. The single largest event featuring cosplay is the semi-annual
doujinshi
market, Comiket. This event, held in Japan during summer and winter, attracts hundreds of thousands of manga fans. Thousands of cosplayers congregate on the roof of the exhibition centre. The largest event for cosplayers outside Asia is the annual San Diego Comic-Con. The biggest event in the UK is the London MCM Expo at ExCeL London.
Competitions
Edit
As the popularity of cosplay has grown, many conventions have come to feature a contest surrounding cosplay that may be the main feature of the convention. Contestants present their cosplay, and often to be judged for an award, the cosplay must be self-made. The contestants may choose to perform a skit, which may consist of a short performed script or dance with optional accompanying audio, video and/or images shown on a screen overhead. Other contestants may simply choose to pose as their characters. Often contestants are briefly interviewed on stage by an MC. The audience is given a chance to take photos of the cosplayer(s) Cosplayers may compete solo or in a group. Award are presented, and these awards may vary greatly. Generally there will be a Best Cosplayer award, and Best Group award, with runner-up prizes as well. Awards may also go to the best skit, and a number of cosplay skill subcategories, such as Master Sewist, Master Weapon-Maker, Master Armourer, etc.
In Japan teenagers gather with like-minded friends in places like Tokyo's Harajuku district to engage in cosplay. Since 1998 Tokyo's Akihabara district has contained a large number of cosplay cafés, catering to devoted anime and cosplay fans. The waitresses at such cafés dress as game or anime characters; maid costumes are particularly popular.
Miscellaneous Events
Edit
Groups of cosplayers may choose to hold small gatherings, at any number of venues, including café's, parks, nightclubs and amusement parks. They may join to have an excuse to cosplay, to compare work, share tips or any other person reason.
Gender roles
Edit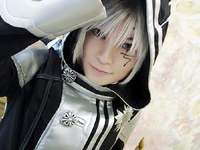 Portraying a character of the opposite sex is "crossplay." The practicality of crossplay and crossdress stems in part from the abundance in manga of male characters with delicate and somewhat androgynous features. Such characters, known as bishōnen (lit. "pretty boy"), are an Asian version of the elf in boy archetype represented in Western tradition by figures such as Peter Pan and Ariel.
Cosplay in Japan
Edit
Cosplayers in Japan refer to themselves as reiyā (レイヤー); pronounced "layer". Those who photograph players are called cameko, short for "Camera Kozō" or "Camera Boy". Originally the cameko give prints of their photos to players as gifts. Increased interest in cosplay events both on the part of photographers and cosplayers willing to model for them have led to formalisation of procedures at events such as Comiket. Photography takes place within a designated area removed from the exhibit hall.
Cosplay at fan events likely originated in Japan in 1978. Cosplay nevertheless gets a mixed reception in Japan even today. Events in districts such as Akihabara draw many cosplayers, yet there is no shortage of people in Japan who regard cosplay as a frivolous endeavor.
Community content is available under
CC-BY-SA
unless otherwise noted.