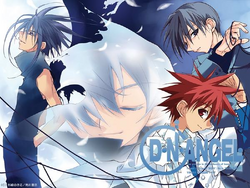 ---
D.N.Angel Wiki
Wiki founding
: September 25, 2007
Page count
: 108
Last checked
: May 21, 2017
---
D.N.Angel (ディー・エヌ・エンジェル, Dī Enu Enjeru) is a manga series written and illustrated by Yukiru Sugisaki. The manga premiered in the Kadokawa Shoten shōjo magazine Monthly Asuka in November 1997. The series went on an extended hiatus after the August 2005 issue, returning in the April 2008 issue. Kadokawa Shoten has collected the individual chapters and published them in 15 tankōbon volumes so far. The manga series is licensed for English language release in North America and the United Kingdom by Tokyopop, which has released 13 volumes of the series as of December 2009.
Dentsu and Xebec adapted the manga into a 26-episode anime series which aired in Japan on TV Tokyo from April 3, 2003 until September 25, 2003. The anime was later adapted into second two-volume manga series, a PlayStation 2 video game, and a series of drama CDs.
D.N.Angel follows the adventures of Daisuke Niwa, an average teenage boy. At the story's opening, Daisuke declares love for his crush, a girl named Risa Harada, on his fourteenth birthday. She rejects him, and later that day, the heart-broken Daisuke undergoes a strange mutation that changes him into another person. He is told calmly by his mother Emiko that, because of a strange genetic condition, all the males in Daisuke's family gain the countenance of Dark Mousy, a famous phantom thief. The transformation occurs every time Daisuke has romantic feelings for his crush or whenever he thinks too long about her. Dark changes back into Daisuke the same way. Daisuke is forced to keep his family's secret and control his alter ego, Dark (who Risa, Daisuke's crush, has fallen for), while dashing his way out of being caught by the commander of the police. Daisuke learns that in order to return to normality, he must have his unrequited love returned.
The aforementioned commander of the police is a classmate of Daisuke's named Satoshi Hiwatari. Hiwatari suffers from his own version of the phantom-thief curse, and a bond forms between Hiwatari and Daisuke because of their similar afflictions. Hiwatari carries the alter-ego named Krad. However, though Dark and Krad hate one another, Hiwatari and Daisuke maintain a strained but genuine friendship, despite Dark's constant moaning. Dark steals certain artistic objects of value, works made by Satoshi's ancestors, because they contain dangerous magical properties. Some of them, such as "The Second Hand of Time" and "Argentine" also have personalities of their own. Some of the objects that he steals are quite dangerous. Dark's method of stealing is based on garnering attention; before stealing, Emiko will send out a warning of what will be stolen.
Community content is available under
CC-BY-SA
unless otherwise noted.