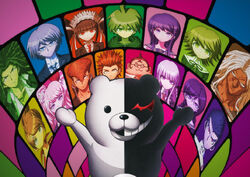 ---
Dangan Ronpa Wiki
Wiki founding
: October 6, 2012
Page count
: 1,180
Last checked
: September 2,2020
---
Danganronpa: Trigger Happy Havoc (ダンガンロンパ 希望の学園と絶望の高校生, Danganronpa: Kibō no Gakuen to Zetsubō no Kōkōsei, lit. "Danganronpa: Academy of Hope and High School Students of Despair") is a murder mystery visual novel adventure game developed and published by Spike (later Spike Chunsoft) and the first game in the Danganronpa series. The game was originally released in Japan for the PlayStation Portable on November 25, 2010 and was later ported to iOS and Android devices on August 20, 2012. Two manga adaptations and two spin-off novels have been published, a television anime adaptation by Lerche aired between July and September 2013, and a stage adaptation ran from October to November 2014 in Tokyo's Nippon Seinenkan.
A sequel, Danganronpa 2: Goodbye Despair, was released for PlayStation Portable on July 26, 2012. A compilation of both games, titled Danganronpa 1・2 Reload, was released for PlayStation Vita in Japan on October 10, 2013. NIS America released the Vita remake of the first game in North America on February 11, 2014, and in Europe and Australia on February 14, 2014. The game was also released on Steam in February 18, 2016. Both games will be released for PlayStation 4 in early 2017.
A spin-off game, titled Danganronpa Another Episode: Ultra Despair Girls, was released for the PS Vita in 2014. An anime sequel, Danganronpa 3: The End of Hope's Peak High School, began airing in July 2016. A third main title, New Danganronpa V3: Minna no Koroshiai Shingakki, has been announced for PS Vita and PlayStation 4
Makoto Naegi is an average high school boy who is selected out of luck to enroll the Kibougamine Academy, an elite school for students who excel in their own specialization. To graduate from this high school essentially means to succeed in life. However, the school is presided over by a bear called Monokuma who traps Makoto and other 14 elite students. Now, the only way for a student to graduate is to kill one of their classmates and get away with it - but if they are caught, they are killed as well.
https://danganronpa.wikia.com/wiki/Danganronpa_Wiki
Community content is available under
CC-BY-SA
unless otherwise noted.