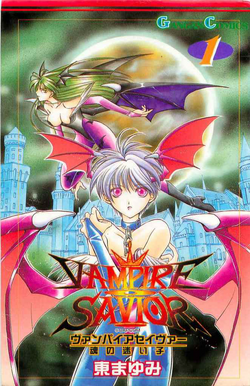 ---
Darkstalkopedia
Wiki founding
: December 2007
Page count
: 247
Last checked
: February 7, 2018
---
Darkstalkers, known in Japan as Vampire (ヴァンパイア, Vanpaia), is a series of 2D fighting games developed and published by Capcom, beginning with Darkstalkers: The Night Warriors (Vampire: The Night Warriors) in 1994. Besides video games, the Darkstalkers media franchise also includes an anime miniseries, an American cartoon TV series, a Canadian comic book series, and many books of various kinds and other media released only in Japan. Some individual characters (usually the series' mascots Morrigan and Felicia) appeared in the later Capcom games, as well as in a few crossover games released by other companies.
The Darkstalkers games take place on the planet Earth that is in the process of merging with a realm known as Makai. The reason for this merger varies depending on the continuity, but a continuing theme is that the union of realms brings the arrival of the Darkstalkers to the human world, the term being a catch-all for the various creatures of legend. The greatest of these supernatural creatures, and the greatest among those who hunt them, meet in battle to determine who will rule the night.
In the sequel, Vampire Hunter (Night Warriors: Darkstalkers' Revenge), an alien overlord named Pyron returns to Earth after being away for many years. His quest to conquer the world using an army of robots brings the Darkstalkers out of hiding to oppose his rule over humanity and the supernatural. A second sequel, Vampire Savior (Darkstalkers 3), saw the return of Jedah, previously one of the nobles of Makai, who decides that the only way to save the realm is to take control of it by force. Accordingly, he lures the Darkstalkers into a trap to use their collective souls to remake the realm and control both humanity and supernatural.
Community content is available under
CC-BY-SA
unless otherwise noted.