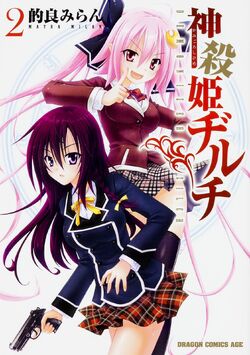 ---
---
Genre:

Tags:

Demons 

Media:
Demonizer Zilch (神殺姫ヂルチかみごろしひめ, Kamigoroshihime Djiruchi) is a manga series written and illustrated by Milan Matra. The series is licensed by Yen Press in North America.
Sixteen year old Haruomi Io is haunted by dreams of how when he was younger his mother, sister, and childhood friend all died in a tragic accident. One day, Haruomi has an inexplicable pain in his chest, and is attacked shortly afterwards by a girl. After he is able to escape from her, he encounters another girl, who shows signs of being surprised to see him. The second girl is even more shocked when Harumoi's eyes begin to glow after he has another fit, this time in the form of a massive headache. She is then ordered by her boss to kill Haruomi, but he is rescued by a demon (also referred to as a "branch" named Zilch. Haruomi soon finds himself caught in the middle of a war between demons and a religious order called the Seventh Gospel Organization. As events unfold, he also discovers what actually happened to his lost loved ones.
Community content is available under
CC-BY-SA
unless otherwise noted.