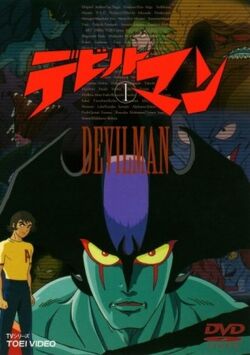 ---
Devilman Wiki
Wiki founding
: January 14, 2013
Page count
: 1,060
Last checked
: July 3, 2018
---
Genre:

Action , Horror , Supernatural 

Media:
Devilman (デビルマン, Debiruman) is a manga series written and illustrated by Go Nagai, which originally started as an anime adaptation of the concept of Nagai's previous manga series, Demon Lord Dante. This 39-episode anime series was developed by Toei Animation in 1972, while Nagai began the Devilman as a manga in Kodansha's Weekly Shōnen Magazine, barely a month before the anime series began. The series has since spawned numerous OVAs, manga, novels, and films.
Devilman Crybaby (stylized as DEVILMAN crybaby) is a Japanese anime series based on Go Nagai's manga Devilman. It was directed by Masaaki Yuasa and written by Ichirō Ōkouchi, and premiered on January 5, 2018 worldwide streaming on Netflix as an original series.
Devilman features Akira Fudo, a shy and timid teenager who has gone mountain climbing in the Himalayas with his father. While in the middle of the expedition, both father and son are killed in a tragic accident. Akira's body is found and possessed by the demon soldier Devilman, who uses his new human form as a disguise in order to fulfill his mission of causing chaos on Earth in order to pave the way for a demonic invasion of the planet.
Before his mission can begin in earnest, Devilman meets Akira's childhood friend Miki Makimura and quickly falls in love with her. Devilman resolves to protect Miki and humanity as a whole by battling against his fellow demons. Demon Tribe leader Zennon becomes greatly angered at Devilman's betrayal and is quick to send Devilman's former comrades to destroy him. The other demons soon learn that Miki is precious to Devilman and he must now work to protect her, as well as protect himself. Will the power of love be able to overcome that of true evil?
In the series, Akira Fudo is informed by his best friend, Ryo Asuka, that an ancient race of demons has returned to take back the world from humans. Believing that the only way to defeat the demons is to incorporate their powers, Ryo suggests to Akira that he unite with a demon. Succeeding in doing so, Akira transforms into Devilman, possessing the powers of a demon but retaining the soul of a human.
The series is more of a direct anime adaptation of its source material than previous works, covering the entire span of the manga. However, many alterations were made to the plot, such as a modern setting and different characterizations.
Community content is available under
CC-BY-SA
unless otherwise noted.