m

Line 35:
Line 35:
 

*[http://www.toei-anim.co.jp/tv/digimon_s/ Official Digimon Savers Website]

 

*[http://www.toei-anim.co.jp/tv/digimon_s/ Official Digimon Savers Website]

 

*[http://www.toei-anim.co.jp/tv/digimon_xw/ Official Digimon Xros Wars Website]

 

*[http://www.toei-anim.co.jp/tv/digimon_xw/ Official Digimon Xros Wars Website]

 
+

*[http://www.digimon-adventure.net/ Official Digimon Adventure tri. Website]

 
 
 

===Other Sources===

 

===Other Sources===
---
Revision as of 15:47, 19 September 2015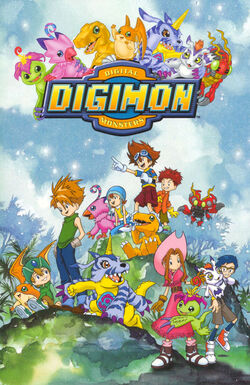 ---
Digimon Wiki
Wiki founding
: 2006/03/04
Page count
: 7,051
Last checked
: 2015/09/17
---
Digimon is a media franchise encompassing anime, manga, toys, video games, trading card games and other media. The franchise's eponymous creatures are monsters of various forms living in a "Digital World", a parallel universe that originated from Earth's various communication networks.
TV Series
On March 6, 1999, the franchise was given an anime as the first of the Digimon movies aired in theaters in Japan. Originally, the Digimon Adventure movie was supposed to be a short film, but after the storyboard was finished, a request for Digimon becoming a children's television show was made. On March 7, 1999, they began airing a television counterpart titled Digimon Adventure.
Four further series would follow, each with their own tie-in movies, and the series was dubbed for release in western markets in the fall of the same year. The show spawned card games, with Hyper Colosseum in Japan and later Digi-Battle in America, and more video games. The animated series is easily the best-known segment of the Digimon universe and responsible for the majority of its popularity.
"Digimon" are "Digital Monsters". According to the stories, they are inhabitants of the "Digital World", a manifestation of Earth's communication network. The stories tell of a group of mostly pre-teens, the "Chosen Children" (DigiDestined in the English version), who accompany special Digimon born to defend their world (and ours) from various evil forces. To help them surmount the most difficult obstacles found within both realms, the Digimon have the ability to evolve (Digivolve). In this process, the Digimon change appearance and become much stronger, often changing in personality as well. The group of children who come in contact with the Digital World changes from series to series.
As of 2011, there have been six series — Digimon Adventure, Digimon Adventure 02, Digimon Tamers, Digimon Frontier, Digimon Data Squad, and Digimon Fusion. The first two series take place in the same fictional universe, but the third, fourth, fifth, and sixth each occupy their own unique world (in the case of Digimon Tamers, the Adventure universe is referred to as a television and commercial enterprise, as well as the appearance of one character hailing from the Adventure universe). In addition, each series has spawned assorted feature films. Digimon still shows popularity, as new card series, video games, and movies are still being produced and released: new card series include Eternal Courage, Hybrid Warriors, Generations, and Operation X; the video game, Digimon Rumble Arena 2; and the previously unreleased movies Revenge of Diablomon, Runaway Locomon, Battle of Adventurers, and Island of Lost Digimon. In Japan, Digital Monster X-Evolution, the eighth TV movie, was recently released, and on December 23, 2005 at Jump Festa 2006, the fifth series, Digimon Savers was announced for Japan to begin airing after a three year hiatus of the show.
Digimon was produced by Toei Animation and Bandai of Japan. The series were broadcast in Japan by Fuji Television. The first four series were called Digimon: Digital Monsters in international markets, whilst Savers was released as Digimon Data Squad.
External Links
Official
Other Sources
Other Wikis
References
Community content is available under
CC-BY-SA
unless otherwise noted.