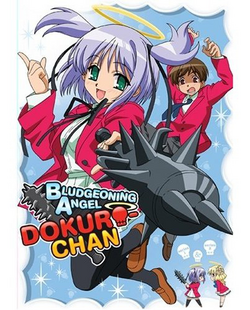 ---
Bokusatsu Tenshi Dokuro-chan Wiki
Wiki founding
: March 14, 2009
Page count
: 44
Last checked
: July 15, 2017
---
Genre:

Media:
Bludgeoning Angel Dokuro-Chan (撲殺天使ドクロちゃん, Bokusatsu Tenshi Dokuro-chan) is a Japanese light novel series written by Masaki Okayu and illustrated by Torishimo. The novels were first serialized in the Dengeki hp magazine published by MediaWorks. Later, a manga version was created, written and illustrated by Mitsuna Ouse serialized in Dengeki Comic Gao!. Finally, an anime version was adapted and aired in Japan between March and September 2005. A second anime series aired between August and November 2007.[1] In late 2005, a PlayStation 2 game titled Game ni Natta yo! Dokuro-chan: Kenkō Shindan Daisakusen was released in Japan.
Bokusatsu Tenshi Dokuro-chan tells the story of Sakura Kusakabe, a second-year junior high school student who, twenty years in the future, while attempting to create a "Pedophile's World" forces all women to stop aging after the age of twelve, offends God by the side effect of having created immortality. Dokuro Mitsukai, a member of an order of angel assassins that are called Rurutie, has been sent from the future to kill him. Believing that Sakura can be redeemed, Dokuro decides instead to keep Sakura so occupied that he can never develop the immortality technology. Due to her impulsive nature and super-human strength however, she frequently kills him with her gigantic spiked kanabō (club), Excalibolg, on a moment's impulse, but returns him to life moments later with angelic power. Sabato, another assassin of the Rurutie order who uses her feminine wiles to do her job, is dispatched to complete Dokuro's original mission: Sakura's assassination.
Community content is available under
CC-BY-SA
unless otherwise noted.