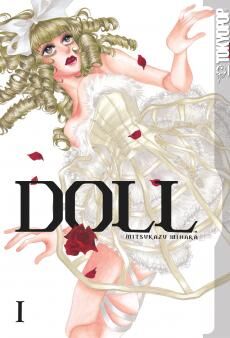 ---
---
Genre:

Media:
Doll (ドール, Dōru) is a josei manga by Mitsukazu Mihara. Appearing as a serial in the manga magazine Feel Young from 1998 to 2002, the thirty-three chapters of Doll were collected into six bound volumes by Shodensha and published from August 2000 to August 2002.
Set in the future, Doll centers around relationships between humans and the eponymous androids—created by Kaoru and Motohiko Kirishima and manufactured by SG Corporation. During the development of the "Sterol-2" Doll, Kaoru's mental condition begins to deteriorate; after attempting to retain a copy of her mind and memories in a prototype of a Doll, Motohiko realizes his mistake of trying to replace his wife. Retiring from the corporation to care for her, he leaves behind eight other prototypes, which are seen throughout the series: a nameless male Doll, who was the constant companion for a woman and cremated with her by her greedy stepson; Chocolat, a maid who was discovered in a trash heap by an elderly farming community; Honey, a secretary loyal to the SG Corporation president; Cherry, the maid to an award-winning, bulimic writer; Vanilla, a maid to an elderly man and his unfaithful, younger wife; the sexaroid Veronica, one of two Dolls built for sexual intercourse, and her unnamed partner; and S, who hunts down illegally reprogrammed Dolls for SG Corporation.
Doll also focuses on Ichiro, a reprogrammer of Dolls who was abused by his stepmother and stepsiblings. Chosen to become the next president of SG Corporation, he was castrated by his beloved Doll on the orders of his jealous relatives. His Doll, the only one who had shown him kindness, was then destroyed. No longer the successor, Ichiro studied all the aspects of the Doll business. At eighteen years old, he left and began to reprogram Dolls illegally, seeking revenge on SG Corporation. Years later, Ichiro finds the unnamed sexaroid, after Veronica is destroyed by a sadistic owner. Ichiro reprograms the sexaroid to mimic human emotions, and the sexaroid becomes Ichiro's companion.
They eventually find and purchase Vanilla, who acts as if she suffers from psychological trauma. While on a date with the sexaroid, Vanilla recovers her memories of having been ordered to bury her master's corpse by her mistress. Meanwhile, Ichiro is captured by agents of the SG Corporation. Learning of this, the sexaroid leaves to rescue him, against the wishes of another reprogrammer, Psycho Candy. Captured, tagged for destruction, and reunited with Ichiro, the sexaroid finds himself ordered by Ichiro to switch places with him and escape. Ichiro then gives the sexaroid a name, Itsuki. With Itsuki's tag for destruction, Ichiro is killed at the moment his father finally recognizes him. Doll concludes with SG Corporation's scandal and subsequent bankruptcy, as Motohiko and his wife are content with knowing that they left Dolls in the world, while Vanilla and Itsuki live together in a house purchased by Ichiro.
Community content is available under
CC-BY-SA
unless otherwise noted.