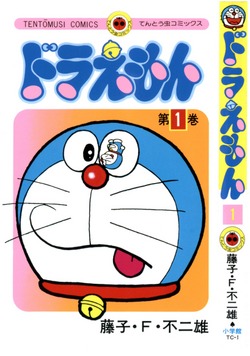 ---
Doraemon Wiki
Wiki founding: 2008/01/21
Page count: 5,476
Last checked: 2021/05/05

---
Fanon Wiki: Doraemon Fanon Wiki
---
Doraemon (ドラえもん) is a manga series created by Fujiko F. Fujio (the pen name of Hiroshi Fujimoto) which later became an anime series and an Asian franchise. The series is about an earless robotic cat named Doraemon, who travels back in time from the 22nd century to aid a schoolboy, Nobita Nobi.
The series first appeared in December 1969, when it was published simultaneously in six different magazines. In total, 1,344 stories were created in the original series, which are published by Shogakukan under the Tentōmushi (てんとう虫) manga brand, extending to forty-five volumes. The volumes are collected in the Takaoka Central Library in Toyama, Japan, where both Fujiko Fujio were born. Viz Media bought the license to the Doraemon manga in the 1990s for an English-language release, but canceled it without explanation before any volumes were released. However, Doraemon: Nobita's Dinosaur 2006 (The 26th film in the franchise) got a private screening in Washington D.C. in November 2008.
A majority of Doraemon episodes are comedies with lessons regarding values such as integrity, perseverance, courage, family and respect for elders. Several noteworthy environmental issues are often visited, including homeless animals, global warming, endangered species, deforestation, and pollution. Miscellaneous educational topics such as dinosaurs, the flat Earth theory, wormhole traveling, Gulliver's Travels, and the history of Japan are often covered.
Plot
[
]
Doraemon is sent back in time by Nobita Nobi's great-great grandson Sewashi to improve Nobita's circumstances so that his descendants may enjoy a better future. In the original time-line, Nobita experienced nothing but misery and misfortune manifested in the form of poor marks and grades, physical disasters, and bullying throughout his life. This culminates in the burning down of a future business he set up which leaves his family line beset with financial problems. In order to alter history and better the Nobi family's fortunes, Sewashi sent him a robot called Doraemon.
Doraemon has a pocket from which he produces many gadgets, medicines, and tools from the future. The pocket is called yōjigen-pocket (lit. fourth-dimensional pocket). Some of the gadgets (dōgu) are based on real Japanese household devices with fanciful twists, but most are completely science fiction (although some may be based on folklore or religious stories). Thousands of dōgu have been featured in Doraemon. The number of dōgu has been approximated at 4,500. It is this constant variety which makes Doraemon popular even among adult readers/viewers. In the series, the availability of dōgu depends sometimes on the money Doraemon has available, and he often says some dōgu are expensive in the future. The more famous ones include the "bamboo-copter" (very similar to the ones that appears on the older series of Beany and Cecil), a small head accessory that allows flight; the "Anywhere Door", a door that opens up to any place the user wishes; and the "Time Machine". Some of the recurring dōgu appear also in Fujiko F. Fujio's other works such as 21-emon, Kaibutsu-kun, Kiteretsu Daihyakka, Mikio to Mikio or Pāman.
The stories are formulaic, usually focused on the everyday struggles of fifth grader Nobita, the protagonist of the story. In a typical chapter, Nobita comes home crying about a problem he faces in school and/or the local neighborhood. After hearing him out, Doraemon often offers helpful advice to his problem(s), but that's never enough for Nobita, who is consistently looking for the "quick, easy" way out (which offers insight to the viewers as to why Nobita's life turned out the way it did). Finally, after Nobita's pleading and/or goading, Doraemon produces a futuristic gadget out of his aforementioned pouch to help Nobita fix his problem, enact revenge, or flaunt to his friends.
Unfortunately when in possession of the gadget, Nobita usually gets into deeper trouble than before, despite Doraemon's best intentions and warnings. Sometimes, Nobita's friends (usually Suneo or Gian) steal Doraemon's gadgets and end up misusing them. However, by the end of the story, there is usually retribution to the characters who end up misusing them, and a moral is taught.
External Links
[
]
Official
[
]
Other Sources
[
]
Other Wikis
[
]
References
[
]