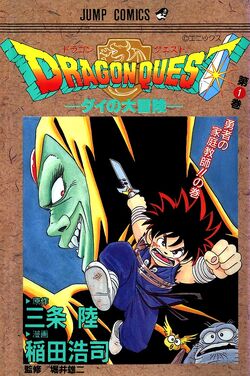 ---
Dragon Quest Wiki
Wiki founding: 2006/03/01
Page count: 8,239
Last checked: 2021/05/06

---
Fanon Wiki: Dragon Quest Fanon Wikia
---
Dragon Quest is a series of internationally best-selling console role-playing video game (RPG) titles created by Yuji Horii and his studio, Armor Project.
The games are published by Square Enix (formerly Enix), with localized versions of later installments for the Nintendo DS being published by Nintendo outside of Japan. With its first title published in 1986, there are currently 10 main-series titles, along with numerous spin-off games. Nearly every game in the main series has either an anime or manga adaptation, or both.
Plot
[
]
The story starts with a young kid named Dai remembering a story told to him by his adoptive grandfather, the monster magician Brass, about the defeat of the Demon King Hadlar by the hands of a hero known as Avan. After the defeat of the Demon King Hadlar, all of the monsters were released from his evil will and peace reigned supreme around the world once again for 10 years. Some monsters and demons moved to the island of Delmurin to live in peace. Dai, the young protagonist of the series, is the only human living on the island. Having been raised by the kindly monster magician Brass and with his best friend, the monster Gome, Dai grows up to dream of becoming a hero.
The true story begins when a very special person arrived at the island to meet with Dai: Avan, an instructor of heroes who came to the island to teach Dai, by request of Leona, a princess who was previously saved by the boy. Avan offered Dai a full week of training which would create a hero out of him. Having just learned the second of the three secret sword techniques of Avan, Dai's training was interrupted by Hadlar, believed to be dead. Hadlar announced to Avan that he worked for an even more powerful evil king who resurrected him, the Great Demon King Vearn. Weakened by the spells he used to help Dai on his training, Avan nevertheless confronted Hadlar. To protect his students and destroy Hadlar at the same time, he cast a spell called "Megante" (Sacrifice) which required the caster's own life force to be used. The spell did not destroy the Demon King as Avan had planned, and Dai, Pop, Brass, and Gome were left to fend for themselves. Only the awakening of a hidden power within Dai, symbolized by the appearance of a strange mark on his forehead, led them to a win, causing Hadlar to flee. Dai decides to leave the island with Pop to avenge Avan and defeat the Demon King and his master to bring peace back to the world.
External Links
[
]
Official
[
]
Other Sources
[
]
Other Wikis
[
]
References
[
]