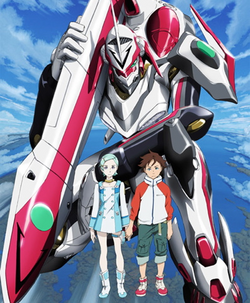 ---
Eureka Seven Wiki
Wiki founding
: November 11, 2007
Page count
: 341
Last checked
: November 3, 2020
---
Eureka Seven, known in Japan as Psalms of Planets Eureka Seven (交響詩篇エウレカセブン, Kōkyōshihen Eureka Sebun; literally "Symphonic Psalms Eureka Seven" and stylized as "Eureka seveN"), is a mecha anime TV series by Bones. Eureka Seven tells the story of Renton Thurston and the outlaw group Gekkostate, his relationship with the enigmatic mecha pilot Eureka, and the mystery of the Coralians.
Bandai produced three video games based on Eureka Seven; two of them are based on events prior to the show, while the third is based on the first half of the show. Both the original concept of the anime and the video game Eureka Seven vol. 1: New Wave have been adapted into manga series as well, although with many significant changes primarily at the end. The TV series has also been adapted into a series of four novels and a movie.
Eureka Seven consists of fifty episodes which aired from April 17, 2005, to April 2, 2006, on the Mainichi Broadcasting System and Tokyo Broadcasting System networks. Almost all of the show's episodes are named after real songs, composed by both Japanese and foreign artists.
The series focuses on Renton Thurston, the fourteen-year-old son of Adroc Thurston, a military researcher who died saving the world. He lives what he considers a boring life with his grandfather in a boring town. He loves lifting, a sport similar to surfing but with trapar, a substance abundant throughout the air, as the medium. He dreams of joining the renegade group Gekkostate, led by his idol Holland, a legendary lifter.
An opportunity to do so literally falls into his lap when a large mechanical robot, called the Nirvash typeZERO, and Eureka, its pilot and a member of Gekkostate, crash into Renton's room. Renton's grandfather orders him to deliver a special part to the Nirvash called the "Amita Drive", which releases the immense power dormant within the typeZERO called the "Seven Swell Phenomenon". Afterwards, Renton is invited to join Gekkostate, where he quickly discovers that the behind-the-scenes life of Gekkostate is hardly as glamorous or as interesting as printed in the glossy pages of their magazine, ray=out. Only one thing makes it all worthwhile for him: the presence of Eureka, the mysterious pilot of the Nirvash. Renton, Eureka, and the Gekkostate embark on an adventure that will shape their future as well as the world's.
Community content is available under
CC-BY-SA
unless otherwise noted.