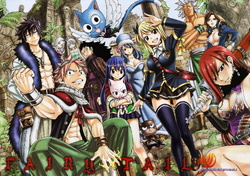 ---
Fairy Tail Wiki
Wiki founding: March 23, 2008
Page count: 3,954
Last checked: January 21, 2018

---
Fanon Wiki: Fairy Tail Fanon Wiki
---
Demographic:

Genre:

Tags:

Media:
Fairy Tail (フェアリーテイル, Fearī Teiru) is a Japanese manga series by Hiro Mashima. It was serialized in Weekly Shōnen Magazine from August 2, 2006 to July 26, 2017.
An anime adaptation produced by A-1 Pictures and Satelight aired from October 12, 2009 to March 26, 2016.
Fairy Tail Zero (フェアリーテイル ゼロ, Fearī Teiru Zero) is a manga series by written and illustrated by Hiro Mashima. Fairy Tail Zero is a monthly spin-off published in Monthly Fairy Tail. The first chapter was released on July 17, 2014.
Fairy Girls (フェアリーガールズ, Fearī Gāruzu) is a manga series by BOKU and a spin-off of Hiro Mashima's manga series Fairy Tail.
Fairy Girls is a monthly spin-off published in Magazine Special, written and illustrated by BOKU. The first chapter was released on November 20, 2014.
Fairy Tail Blue Mistral (フェアリーテイル ブルー・ミストラル, Fearī Teiru Burū Misutoraru), illustrated and written by Rui Watanabe and focusing on the character Wendy Marvell, ran in Kodansha's shōjo manga magazine Nakayoshi from August 2, 2014 to December 1, 2015.
A young sorceress, Lucy Heartfilia, travels to the land of Fiore to join the magical Fairy Tail Guild. Along the way, she meets Natsu Dragneel, a teenage boy looking for a dragon named Igneel. Shortly after their meeting, Lucy is abducted by Bora of Prominence, who was posing as Salamander of Fairy Tail, to be sold as a slave. Natsu rescues her and reveals that he is the real Salamander and has the skills of a Dragon Slayer. He offers her membership into the guild, which she accepts, and they become a team performing various missions for the Fairy Tail guild.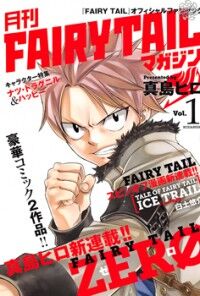 The story behind the creation of Mage Guild Fairy Tail begins to unfold on Tenrou Island. On the year X679, Mavis Vermilion is left to fend for herself after a war takes the lives of those who reside on the island. Seven years later, she encounters those who will, in the near future, title themselves as the founding members of Fairy Tail.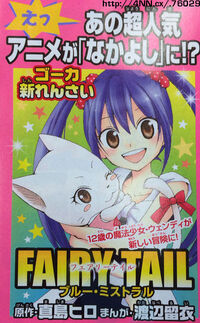 Wendy is a 12-year-old magical girl who faces the secrets of the Dragon Valley. She is cute and is a sky dragon slayer and in this series she meets a girl who has the same age as her and she is the only mage in the village named Yukino. They both solve the case about the dragon who was defeated hundred years ago and about the missing people who have gone to the Dragon Valley and never came back. Wendy has to solve this case about the missing people and the dragon who she finds the bones in the dragon's nest.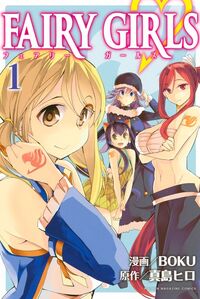 The story centers around the female members of the Fairy Tail Guild and their adventures.
Community content is available under
CC-BY-SA
unless otherwise noted.