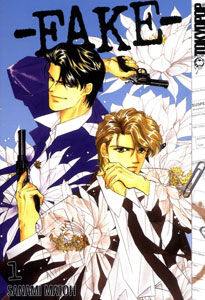 ---
Fake (manga) Wiki
Wiki founding
: January 25, 2017
Page count
: 8
Last checked
: October 2, 2017
---
---
Fake is a seven-volume BL manga by Sanami Matoh. An anime version of the fifth act (or chapter) from the second manga is also available, in the form of an OVA.
Fake was first published as seven volumes by Biblos, but after the company went bankrupt in 2006, Fake was republished by Mediation as five volumes, with one newly drawn extra story featured at the back of each. Fake's English translation is published by Tokyopop in the United States of America, and by Madman Entertainment in Australia and New Zealand. All seven volumes are available in English. The one-off sequel "Like, like love" is only available in Japan as a part of an art book by Matoh.
On May 12, 2007, the manga Fake "Second Season", a sequel, premiered in a new Japanese magazine called Hug, also published by Mediation. There is currently no news on North American licensing.
Dee Laytner and Randy "Ryo" Maclane are two cops who fight and solve crimes in New York City. Dee has a great amount of romantic interest in Ryo, but Ryo isn't sure about his own feelings for his partner or even what to think of another man or woman hitting on him. It's one misadventure and awkward moment to the next as the two of them try to sort out their relationship and feelings, while still keeping up with their jobs and their normal lives.
Community content is available under
CC-BY-SA
unless otherwise noted.