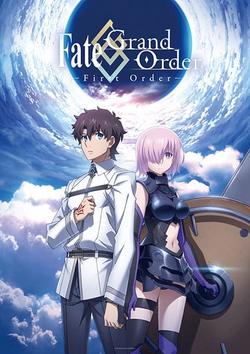 ---
fategrandorder
Wiki founding
: August 29, 2007
Page count
: 1,684
Last checked
: September 21, 2019
---
Genre:

Action , Adventure , Drama , Fantasy , Romance , Supernatural 

Media:

Spin-off:
Fate/Grand Order (フェイト/グランドオーダー) is a mobile "gacha" RPG game for Android and IOS, developed by Delightworks, published by Aniplex and licensed by TYPE-MOON, released in the year 2015(JP) and 2017(NA).
Conceived as "Fate Online Project Reboot", the reboot of the original Fate/Apocrypha project that eventually became a novel series, Grand Order is a turn-based RPG with strong storytelling and "gacha" elements—the 240+ characters usable in combat being drawn from a weighted lottery with in-game currency and microtransactions.
It has been adapted multiple times into anime format, the Movie Fate/Grand Order: First Order was animated by Lay-duce and released in 2016, Fate/Grand Order: Zettai Majuu Sensen Babylonia, an anime series planned to air on Oct 5, 2019 to ? by Clover Works and Fate/Grand Order - Camelot, which was separated in two movies by Production I.G. planned for 2020.

Fate/Grand Order: First Order
[
edit
|
edit source
]
Fate/Grand Order: First Order covers the events of the first playable singularity of the game Singularity F : The Contaminated City in Flames : Fuyuki.
In the year 2015, humanity faces a world threatening danger, Ritsuka Fujimaru, a young man and new recruit to the Chaldea Organization, and the rather shy girl Mash Kyrielight travel back in time to the year 2004 to investigate and possibly try to save humanity.
Fate/Grand Order: Zettai Majuu Sensen Babylonia
[
edit
|
edit source
]
The events of Order VII : The Absolute Frontline in the War Against the Demonic Beasts : Babylonia : The Chain of Heaven are getting covered.
After overcoming 7 Singularities full of danger, friendships, emotions and loss, Ritsuka Fujimaru possibly faces his now most dangerous adventure, with the help of Mash Kyrielight and the locally summoned servants he steadily marches towards the end of a war of monstrous demons and gods.
Fate/Grand Order - Camelot
[
edit
|
edit source
]
Into two movies, the events of Order VI : The Sacred Round Table Realm : Camelot : The Shining Airgetlám, were separated.
Set in A.D. 1273, Ritsuka Fujimaru finds himself in a conflict of 3 factions and becomes a witness of a tale of tragedy, loyalty and chivalry.
Community content is available under
CC-BY-SA
unless otherwise noted.