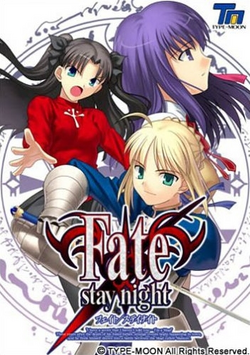 ---
TYPE-MOON Wiki
Wiki founding
: August 29, 2007
Page count
: 1,473
Last checked
: January 3, 2019
---
Genre:

Action , Drama , Fantasy , Romance , Supernatural 

Media:

Anime, Manga, Visual Novel, OVA, Film, Game, Audio Drama
Fate/stay night (フェイト/ステイナイト) is a Japanese adult visual novel game created by Type-Moon. It was originally released on January 30, 2004 for the PC as an adult game, and is later released for the PlayStation 2 as an all-ages game.
It has been adapted into an anime television series, which was animated by Studio Deen and aired between January 6, 2006, through June 16, 2006. The series has been adapted into a manga series, which began serialization in the monthly Shōnen Ace magazine.
An anime film based on the Unlimited Blade Works scenario from the original visual novel was produced by Studio Deen and released on January 23, 2010 in Japanese theaters.
Fate/zero (フェイト/ゼロ, Feito/zero) is a prequel to Type-Moon's visual novel Fate/stay night. It is a light novel by Gen Urobuchi, illustrated by Takashi Takeuchi. The first volume was released on December 29, 2006, and is a collaboration between Type-Moon and fellow developer Nitroplus. The second volume was released on March 31, 2007. The third volume was released on July 27, 2007. The fourth and final volume was released on December 29, 2007, along with the Fate/zero Original Image Soundtrack "Return to Zero". Four sets of Drama CDs were released from 2008 to 2010.
Fate/stay night chronicles a two-week period in the life of Shirō Emiya, an amateur mechanic who attends a school named Homurabara Academy in Fuyuki City. Ten years ago, Shirō was caught in a massive fire that incinerated his parents and consumed a large portion of the city; as he was dying, an enigmatic man discovers and treats him. This man, Kiritsugu Emiya, decides to adopt him, though the two maintain a distant relationship because of Kiritsugu's frequent departures from Fuyuki City.
Unknown to Shirō, Fuyuki City is the setting for a secret and violent war among competing magi. For the past two centuries, seven sorcerers have gathered and engage in a Battle Royale, each gambling his or her own life to obtain the Holy Grail, a legendary chalice capable of granting wishes.
Eventually, he finds himself as one of the seven masters of those seven sorcerers - Servants - and as he fights his way to survive the onslaught of being a competitor in the Holy Grail war, he discovers his hidden potentials.
Prequel: Fate/zero
Edit
Fate/zero takes place 10 years prior to the events of Fate/stay night, detailing the events of the 4th Holy Grail War in Fuyuki City. The War of the Holy Grail is a contest in which seven magi summon seven Heroic Spirits to compete to obtain the power of the "Holy Grail," which grants a miracle. After three inconclusive wars for the elusive Holy Grail, the Fourth War commences.
Founded by the Einzbern, Matō, and Tōsaka families centuries ago, the Einzbern family is determined to achieve success after three successive failures, no matter the cost. As a result, they have elected to bring the hated magus killer, Kiritsugu Emiya, into their ranks, despite his methods and reputation as a skilled mercenary and a hitman who employs whatever he can use to accomplish his goals. Though Kiritsugu had once wanted to become a hero who could save everyone, he has long since abandoned this ideal upon realizing that saving one person comes at the cost of another's life. For the sake of humanity, he will ruthlessly destroy anything and anyone who threatens the peace of others.
However, Kiritsugu finds himself deeply torn between the love he has found for his new family - his wife Irisviel and their daughter Illya - and what he must do to obtain the Holy Grail. Meanwhile, Kiritsugu's greatest opponent appears in the form of Kirei Kotomine, a priest who cannot find any sense of fulfillment in his life and sets his sights on Kiritsugu as the possible answer to the emptiness he feels.
External Links
Edit
Other Sources
Edit
Other Wikis
Edit
References
Edit